Best Travel Time Hong Kong
Hong Kong enjoys subtropical climate, with hot & humid summer while cool & dry winter. There is occasional showers and thunderstorms and the typhoons are mostly likely, resulting in flooding or landslide in summer. The highest and lowest temperature in Hong Kong are 36.1 °C (97.0 °F) and 0.0 °C (32.0 °F), respectively; the most coolest time falls in February, with strong and cooling winds from the north. So the best travel time to Hong Kong is at spring and autumn, which is usually sunny and pleasant.
Hong Kong Safety Tips
Hong Kong is one of the safest places with an effective police and legal system. But low crime rate does not mean not crime; just use general guide or common sense to keep you safe.
Call 999 when you urgently need help from the Police, Fire and Ambulance services and the policemen will appear with 10 minutes with the effective service control system.
Check what are the banned substances and drugs before visit Hong Kong, or you will get into trouble with the law there, forbidden drugs such as ecstasy and marijuana are on tight control as well as other things bring the risks of being arrested.
Local residents are required to carry identity cards with them all the time and the police has the right to check "reasonable grounds for suspicion". For foreign tourists, you can choose to keep your passport in a safe place or just take it with you.
Watch out when you crossing the street even the green light on, traffic in Hong Kong generally move fast once the signal turns green. Rapid bells indicate "Walk"; intermittent bells (10 sets of 3 bells) indicate "Do Not Start to Cross"; and slow bells indicate "Do Not Walk".
Hong Kong Shopping Tips
Hong Kong is the most welcomed & comfortable place for shopping and got world-famous fame as "shopping paradise". Travelers in Hong Kong can find wide range of goods at reasonable prices, and the most welcomed types are clothes, cosmetic and electric appliance, antiques. As a free port, most goods from all over the world are custom-free except wine and cigarettes, and they are sold at relatively low prices.
Where to buy in Hong Kong
Tsim Sha Tsui - a prosperous high-ranking shopping and recreational area at Kowloon, embracing the largest shopping mall - harbor city as well as hundreds of brand stores.
Cause way us another famous shopping area in Hong Kong, not only known for the charming Victoria Park but also the exciting horseracing. There are many large shopping malls located at this area, like Time Square, Lee Gardens… it is also a nice center for dining options with kinds of restaurants available there.
Mongkok - known as the most densely populated area in Hong Kong, it is also one of the most popular shopping areas for locals in Kowloon. The intersection of Nathan Road and Argyle Street is sort of the center of all the action, though things change with times as new shops and malls open. Mongkok Computer Center, Ladies' Market, Sai Yeung Choi Street (with many consumer electronics stores), Nathan Road, and Langham Place (mall and hotel) are some of the hot spots in the area.
Stanley - located in the southeast corner of Hong Kong Island, Stanley is away from the more populated parts of Hong Kong. The Stanley Market has become one of the must-go for tourists. It is the location with the most concentrated souvenir shops. There are also some places to stroll around in the area, a good place to spend an afternoon and have a seaside dinner.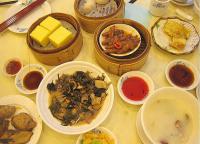 Eating in Hong Kong
The eating habits of Hong Kong people is also influenced by the mix culture of eastern and western; not only it shows the characteristics of Chinese cuisine, but there are also excellent Asian and western choice(adapted to local tastes).
What to eat in Hong Kong - Dim Sum, the best known Cantonese dish which are delicately served at breakfast and supper with Chinese tea. Dim Sum comes in countless variations with price range from $ to more than $100.
If you a seafood lover, just go to Hong Kong! There are countless restaurants offering fresh seafood and travelers can select live fish from tanks in or outside. Other must try food in Hong kong are Egg tarts, roast pork, Cha Sui bao and so on.
Hong Kong is such an international metropolis that you can find just about any kind of restaurants here. French, Italian, Singaporean, Japanese, Greek, Indonesian, Spanish, Thai, Indian, Korean, Mongolian, German ... just to name a few. But how authentic they are, you will be the judge!
See where to eat in Hong Kong.
Nightlife / Entertainment in Hong Kong
Various events such as the Symphony of Lights, Rugby Sevens, Hong Kong Housewares Fair, Man Hong Kong International Literary Festival, Hong Kong International Film Festival, Le French May, Dragon Boat races, Fashion Week, and Winterfest, will more than satisfy your craving for entertainment.
The most well-known entertainment spots for foreigners and expats are two areas on Hong Kong Island called Wan Chai and Lan Kwai Fong. Situated just a short distance from Hong Kong's Central District, Wan Chai is large and comprises different zones with the bars and entertainment venues on the few streets near to the immigration tower, the Hong Kong Exhibition Centre and Central Plaza. The intersection of Lockhart Road, Jaffe Road and Luard Road mark the epicentre of Wan Chai's nightlife, and here you'll find everything from theme bars with Filipino live 'acts', to seedier joints, where girls in suggestive clothing will try to coerce passers by inside for a very expensive drink, a pole dancing show, and more.
Hong Kong Festivals
Hong Kong, the Events Capital of Asia, offers a smorgasbord of fascinating and exciting events ranging from colourful local festivals to world-class arts and sports events.
Hong Kong 2009 East Asian Games' Tickets Go On Sale from 31 August
The 5th East Asian Games will be staged from 5 to 13 December 2009 in Hong Kong. From 31 August, you can book the tickets at HK Ticketing outlets, the Internet or by phone.
Business of Design Week (30 Nov - 5 Dec)
This is Asia's leading event dedicated to design, innovation and brands featuring an astonishing array of conferences, exhibitions and more.
2009 Hong Kong & Shenzhen Bi-City Biennale of Urbanism \ Architecture (4 Dec - 27 Feb 2010) Since its inception in 2007, the Bi-City Biennale has established itself as a significant event in the architecture and design scene both in Asia Pacific and globally.
Hong Kong 2009 East Asian Games (5 - 13 Dec)
Join friendly mascots Dony and Ami for this regional competition as more than 2,300 athletes compete for medals in 22 exciting sporting events. Also there will be a series of Cultural Nights running throughout the games' period. The 44th Hong Kong Brands &
Products Expo (12 Dec – 4 Jan 2010)
this is one of the largest outdoor exhibition in Hong Kong featuring local and overseas famous brands and quality products. A fun outing for shopaholics!Hong Kong
International Races 2009 (horse racing) (13 Dec)
Some of the world's best jockeys and their mounts will be hurtling down the home stretch vying for the million purses.
100th Anniversary of Akira Kurosawa's Birth (18 Dec - 17 Jan 2010)
This project commemorates this influential Japanese film director includes film screenings, a photo exhibition, film music, concerts and more.Hong Kong Tennis Classic 2010 (6 - 9 Jan 2010)
This is tennis heaven! Get set to enjoy four of the 'World's Top Ten', five Grand Slam Champions as well as tennis legends including Stephan Edberg.
Recommended Hong Kong Tours