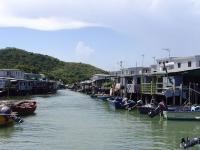 Tai O is a fishing village which is inhabited mainly by the Tanka people, descendants of Hong Kong's first settlers. Lantau Island in Hong Kong is divided into two parts linked together by a river. The western and northern parts of the island facing the South China Sea are uninhabited. Tai O Fishing Village is mostly on the banks of the river.
The village has a population of 5,500, mainly Hakka. People in Tai O live in houses called 'pangwu' meaning 'bamboo houses' or 'stilt houses', which is very special. Traditional salted fish and shrimp paste is available at the storefronts in Tai O. Its fish farming industry made the place become the main spot of sea fish supply in Hong Kong. Tai O has a history of salt production. The salt production was well scaled in here.
Being the "Venice of Hong Kong", Tai O is also a hot tourist spot for both foreigners and residents of other parts of Hong Kong. In the village there are lots of temples, including War God Temple, Yanghou Temple, Hongsheng Temple, Tianhou Temple, etc. For a small fee, some residents will take tourists out on their boats along the river and for short jaunts into the sea. Many tourists come to Tai O specifically to take these trips to see Chinese white dolphins. It is also a good place to see the sunset. This traditional fishing village with special architectures of stilt houses, living environment surrounded by river, cultural and historical monuments and the rich source of natural heritage, are still the great attractions of the place in Hong Kong.
More Attractions in Hong Kong
Recommended China Tours Including Tai O Fishing Village Hong Kong