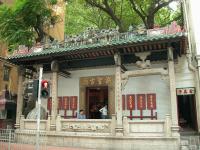 Hung Shing temples have been widely built in southern China, especially Guangdong province and in Hong Kong. "Hung Shing" was the God of the Sea. Many fishermen living along the sea-shore in the south of China worshipped Hung Shing. There are several Hung Shing Temples in Hong Kong, including 6 on Lantau Island and one only in urban Kowloon.
According to history, Hung Shing was an important official in Tong Dynasty. He knew much about the geography and astronomy. He helped the merchants and fishermen a lot with his knowledge. However, he was gone early. It was a wish of the people that Hung Shing's spirit could protect them and bring them luck continuously. Therefore, the people built temple in memory of him and worshipped him. The Emperor of Tong Dynasty also awarded him as the King of South Sea. Hung Shing Temple has long been a place in which to pray for the safety of fishermen and has the social function of strengthening the coherence of the community. Large scale celebrations are held by the locals for the birthday of Hung Shing every year. Hung Shing Festivals are celebrated on the 13th day of the 2nd month in Chinese calendar at the Hung Shing Temples in Ap Lei Chau, Tai Kok Tsui, Cheung Chau, Sha Lo Wan and Kau Sai Chau.
One of Hung Shing temples is situated on island of Kau Sai Chau. Hung Shing Temple is a typical example of a rural temple. There you can find superb tranquility and a temple that has won an award from UNESCO as an outstanding culture and heritage restoration project. According to local legends and the stone tablet at the temple, the building was built before 1889 as a shrine to Hung Shing, God of the Sea, one of the deities worshipped by the island's many fishermen. It also served as a community centre and a school for the children of the village. Another Hung Shing Temple is situated in Fuk Tsun St. Tai Kok Tsui, originally was a temple in the Fuk Chuen Village. In 1928, as the Government developed the area, the Hing Shing Temple was moved to the present site in Fuk Tsun Street which was named after the Fuk Chuen Village. Apart from the God of the Sea "Hung Shing", there were also Wong Tai Sin, Koon Yim, God of the Earth, King of North etc., inside the Temple.
More Attractions in Hong Kong
Recommended China Tours Including Hung Shing Temple Hong Kong