Lan Kwai Fong is an L-shaped, cobble-stoned lane surrounded by Central's cluster of skyscrapers. It all started in the 80's with the opening of the original California Restaurant, treating everyone in Hong Kong to the finest Burger in town. The overwhelming success of the place spawned growth for great food and fun in the area. Now Lan Kwai Fong is a popular warren of Western-style restaurants, nightclubs, delicatessens and bars in Hong Kong.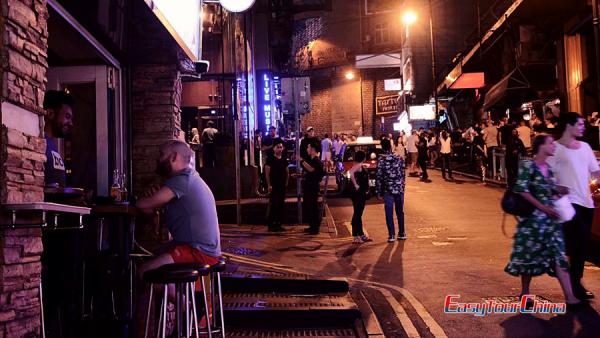 Lan Kwai Fong as an area is defined by D'Aguilar Street and the smaller lane. Both streets turn 90 degrees to form a rectangle. From the west side of the rectangle, Wo On Lane and Wing Wah Lane extend to host several more spots for drinks and food. There are award winning restaurants including French & Italian fine dining, Western specialties such as Russian, Nordic, Australian and Spanish cuisine, Oriental fare offering Chinese, Vietnamese, Thai and Japanese plus everything in between. On the average workday, the "standing crowd" of Oscar's holding their drinks spills out onto the street in front. When it comes to nightlife, this is the "MUST" place to be. Venture down Lan Kwai Fong to find yourself in the centre of the city's hottest, trendiest night spots. Mingle with celebrities and local trend setters at sleek and sexy clubs. Dance till dawn as international DJ's spin the turntables with hip and funky music vibes. Hang out with friends in traditional watering holes offering an intense selection of beers and ales. Shake it all up at tropical bars as bartenders serve up colorful and exotic cocktail mixes.
From exciting supper clubs, casual delis, places for quick bites to inviting alfresco dining, Lan Kwai Fong has it all. More than 20 pubs wind people down after work and give an exciting backdrop in the Eve of important holidays such as Hallowen, Christmas and New Year. Ever year, there are more than 15,000 people were crammed into the area for the New Year countdown.
More Attractions in Hong Kong
Recommended China Tours Including Lan Kwai Fong Hong Kong