Chimelong Holiday Resort is a world class tourist kingdom and has become one of the top amusement parks in Asia. It located in Panyu District, Guangzhou City, covering an area of one million square meters with over 70 rides and attractions. Most of the rides are imported from overseas, such as Dive Coaster, Ten Inversion Roller Coaster, and Motorbike Launch Coaster. Chimelong Holiday Resort was opened in April 2006 as a comprehensive entertainment park integrating sightseeing, accommodation, dining and entertainment.
Chimelong Holiday Resort is made up of six parts, they are:
Chimelong Paradise
Chimelong Paradise is a large theme park whose rides are the richest in China. With all the equipment imported from Europe, the designs and technology of Chimelong Paradise are at a world class level. The Vertical roller coaster is considered the world's best roller coaster while the Ten-looped roller coaster ranking as the best in Asia and second in the world.
Opening Hours: 9:30 - 18:00 (Monday to Friday) & 9:30 - 18:30 (Saturday and Sunday)
Admission Fee: CNY 160 & CNY 170 (on weekends and festivals)
Chimelong Xiangjiang Safari Park
It is a national-grade wildlife world which integrates the protection, research and breeding of animals and plants with sightseeing and education. As the biggest wild animal theme park in Asia, it is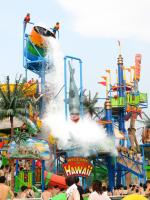 home to over 460 rare and endangered species and over 20,000 animals including five pandas, 10 koalas, Honduras anteaters, pygmy hippopotamus, black rhinoceros, white tigers and white lions. Visitors can opt for a train ride or self-driving through the forests and grassland in the park to get a close up view of the wild animals.
Opening Hours: 09:30 – 17:30
Chimelong Water Park
It is the world's largest, and most advanced Water Park with the most aqua equipment in the world. Many of the amusements in the park have been awarded with international prizes. he park possesses a 1280-meter-long cruise river, the longest in the world which brings great fun to visitors of all ages.
Opening Hours: 9:00 - 22:30 (from May to October)
Chimelong International Circus
It is the biggest professional circus performance stadium in the world. Since opening in 2000, it has been constantly bringing spectators the newest circus programs from all over the world. Initiated programs performed by herbivorous and carnivorous animals together are quite popular among spectators.
Performance Hours: 19:30 - 20:50 (the entrance Hour is 18:30)
Guangzhou Crocodile Park
It is the world's largest crocodile park which integrates views of crocodiles with an ecological farm, animal shows and science education. The park owns 100,000 crocodiles of dozens of varieties and shapes, making up 70% of all the crocodile population in China. A very old and valuable species Chinese alligators inhabit here.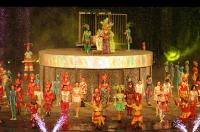 Opening Hours: 09:00 - 17:3
Chimelong Golf Center
Covering an area of 400,000 square kilometers, Chimelong Golf Center is the world's largest golf practice center. Over 50 fairways for teenagers and beginners and more than 100 private fairways of international standard, with extra width enable many people to practice their golf skills at the same time.
Opening hours:
6:00 - 23:00(weekdays)
6:00 - 24:00 (weekends and holidays)
More Attractions in Guangzhou
Recommended China Tours Including Chimelong Holiday Resort Guangzhou