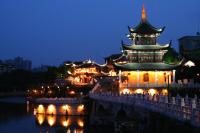 Situated on Fuyu Bridge over the Nanming River,Jiaxiu Tower, also called the First Scholar's Tower,is a landmark of Guiyang, connecting with the banks on both sides. The 20 meters high three-level traditional Chinese-style pavilion was built in 1597 during the Ming Dynasty. Standing firm for 400 years, Jiaxiu Tower has witnessed the history of Guiyang and symbolized the cultural development of Guiyang. With its great culture significance, Jiaxiu Tower has been reconstructed and improved on large scale for six times.
Jiaxiu literally means getting the very best in imperial examinations in Chinese. In ancient China, many intellectuals studied very hard for the scholarly honor or official rank in feudal times. The tower was built to honor the first scholar of the time, in hopes of encouraging more scholars to follow his example. Jiaxiu Tower is a magnificent and unique ancient architecture of China which has 3 stories, 3 eaves, 4 corners and dome attic.
The tower rises 20 meters (66 feet) high with upturned eaves, which supported with 12 stone columns. Decorated with green tiles, red pillars, engraved windows and white stone parapets, Jiaxiu tower looks superb and striking. Mounting the tower, you can get a perfect panoramic view of ups and downs of the mountain city Guiyang. Moreover, Jiaxiu Tower owns a good collection of authentic works and paintings from ancient calligraphers. Among them the 206-character-long couplet written by Liu Yushan in the Qing Dynasty is most popular.
More Attractions in Guiyang
Recommended China Tours Including Jiaxiu Tower Guiyang