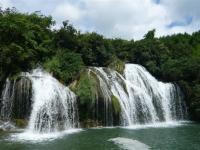 Tianhe Pool lies in Huaxi District in the southern outskirts of Guiyang. The vast area of karst land integrates picturesque waterfalls, crystal springs, deep pools, stone bridges, intriguing limestone caves, and strange rock formations. Tianhe Pool joins the greatness of Huangguoshu Waterfalls and the beauty of the Huaxi together, combing the man-made garden and entertainment projects. It was originally a large crypt, and the pool gradually formed as water accumulated at the bottom.
Tianhe Pool is a popular spot for paddling in rafts through kilometer-deep caves, admiring unearthly karst formations, and strolling through the woods alongside crystalline waters. Occupying an area of 15 square kilometers, the scenic area can be divided into three parts: the Water Cave, the Drought Cave, and the Outer Scenic Area. As the deepest cave, the Water Cave is 1,000 meters long, 80 meters across at its widest, and 20 meters across at its narrowest. It can be paddled through in rented boats, from the outside brightness to the inside darkness, quality flashlights are a necessity.
When returning to the sunshine, Crouching Tiger Lake below the water cave is in front of you. From there, caves and verdant vegetation can be seen everywhere. Near the Water cave you'll find the three-tiered Drought Cave, which features a cliff-spanning stone arch and an array of unlikely rock formations. Drought Cave is made up of three levels, among which the third one is the most breathtaking. Just outside the Water cave lays a small Miao village, where the locals perform well-rehearsed song and dance numbers, display and sell handicrafts.
More Attractions in Guiyang
Recommended China Tours Including Tianhe Pool Guiyang