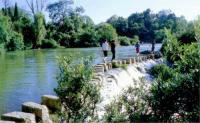 As the centerpiece of this resort city, Huaxi Park lies in the southern part of Guiyang, 17 kilometers away from the city centre. The large natural park blends natural hills and rivers, idyllic scenery with ethnic features, enjoying the reputation of "the pearl of the Plateau". Huaxi Park covers an area of about 136 acres, of which about 49 acres is water area. The park was originally built by a local country gentleman in the Qing Dynasty (1644-1911), and reconstructed in the 1930s. After the founding of the new China, the park was equipped with tourist facilities and renamed Huaxi Park. Besides its marvelous scenery, Huaxi Park is also famous for the visit of Chinese premier Zhou Enlai, Commissary Zhude and other celebrities.
Huaxi Park means a park where flowers are in full bloom and streams flow. As its name indicates, Huaxi Park is different from man-made parks, as the stream and the four hills in it are all naturally formed. Huaxi Park unveils a beautiful landscape: green river twists and turns, flowers in full bloom, and trees spread their shades over green pavilions and towers, villas and bridges.
Huaxi, also called the Flowery River, is the core of the entire scenic area, winding elegantly across the park while the four hills, Lin (Kylin, an animal in Chinese legend), Feng (Phoenix), Gui (Tortoise), and She (Snake) Hills stand at its two sides. The famous scenic spots of Huaxi Park are scatter centred around the four exquisite hills: Xiujia Dam, Bashang Bridge, Baibu Bridge (Hundred Steps Bridge), Furong Zhou (Lotus Islet), Fanghe Zhou (The Islet of Free the Captive Cranes), Peony Garden, Peach Garden, Sakura Garden, Osmanthus Garden, Pines and Plum Garden, etc.
More Attractions in Guiyang
Recommended China Tours Including Huaxi Park Guiyang