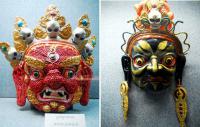 Officially inaugurated in October of 1999, the Tibet Museum is a Tibetan-theme museum enjoying a permanent collection that celebrates the History of Tibetan Culture. It is located in the southeast corner of Norbu Lingka, Lhasa city, covering an area of 23,508 square meters (5.8 acres). In order to create the atmosphere of authentic Tibetan art, the design of the exhibit uses traditional Tibetan architecture such as Tibetan doors, beam-decoration and patterns. As a pioneering institution in the history of Tibet, the complex of the museum is a wonderful combination of Chinese and Tibetan architectural styles.
The museum opened to public in October 1999, in order to coincide with the 50th anniversary of the Founding of the People's Republic of China and the 40th anniversary of Tibet's Democratic Reform. Its name was inscribed by the former Chinese chairman Jiang Zemin. Tibet Museum takes Tibetan history as the main thread and Tibetan culture as the center in exhibiting the long history of the Tibetan people and their vast and deep culture. In consideration of visitors from all over the world, exhibits in the museum are introduced in Chinese, Tibetan, English, and Japanese.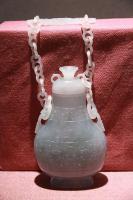 With around 1,000 precious exhibition objects, Tibet Museum is divided into four parts according to the contents, they are:pre-history culture, indivisible history, culture & arts and people's customs. A rich collection of prehistoric cultural relics including Buddha statues in different postures, imperial jade seals, gold albums, gifts granted by emperors, colorful tangkas, and various printed Sanskrit and Tibetan scriptures are displayed in the museum. Moreover, a variety of folk art such as unique Tibetan handicrafts, costumes, jewellery, and adornments made of gold, silver, and jade, as well as fine Chinese pottery can also be seen here.
Tibet Museum not only function as an exhibition place of the civilization of Tibet, but also an ideal location to hold cultural exchanges and seminars, to preserve cultural relics, and to encourage the archaeological study of Tibet. It is free to enter and its opening hours is from 10:00 to 18:00 (Closed on Monday).
More Attractions in Lhasa
Recommended China Tours Including Tibet Museum Lhasa