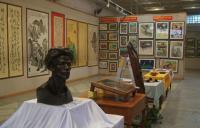 Guangxi Museum(also called Guangxi Zhuang Autonomous Region Museum) was established in 1978 on the east side of the People's Square in Nanning City. Covering a total area of 56,757 square meters of space with a building space of 22,761 square meters, Guangxi Zhuang Autonomous Region Museum is a modern structure with southern architectural characteristics.
Guangxi Zhuang Autonomous Region Museum hold a collection of more than 50,000 cultural relics, including 400 bronze drums, the largest collection in the nation, and over 50,000 ancient books. Of the 76 first-grade relics in the Museum, the most precious are a bronze You of the Shang period and a phoenix lamp of the Western Han Dynasty.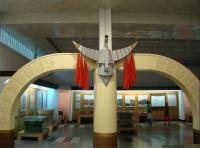 There are two basic displays within the museum: the Display of Guangxi Historical Relics, and the Display of Guangxi Revolutionary Relics. The "Display of Guangxi Historical Relics" exhibits all periods of Guangxi history from Primitive Society up to the Opium War, reflecting local culture and the interchange with the Central Plains and neighboring regions and the process of cultural melding and development. The "Display of Guangxi Revolutionary Relics" exhibits relics and documents of every revolutionary period in the early 1920s. Among the bronzes exhibited are some that allow the visitor to understand something of the ancient Guangxi bronze-drum culture. There are more than 300 drums from this culture in the Museum. One such drum is exhibited in a prominent position. The regional-culture treasures that are exhibited include bronze drums with carved inscriptions, lacquer painted bronze basins, bronze horses, bronze phoenix lanterns, lacquer eared cups, bamboo flutes, celadon bowls, and glass cups, etc.
Besides, there are also other three displays on special topics: the Display of Guangxi Folklore, the Display of Guangxi Ancient Bronze Drums and the Display of Relics about the Taiping Heavenly Kingdom Uprising. The "Ancient Bronze Drums Exhibit" displays representative works of the eight main types of bronze drums from the Spring and Autumn period to the Qing dynasty, together with relevant documents, drawings and models. It narrates the chronological development, distribution, types, uses, and modern usage of bronze drums in the region. The Ethnic Minorities Cultural Relics Garden is an outdoor exhibition of rooms of national minority customs. It reflects the customs of the eleven national minorities in Guangxi. It exhibits their costumes, weavings, dying techniques, embroidery as well as items to do with local festivals.
More Attractions in Nanning
Recommended China Tours Including Guangxi Museum Nanning