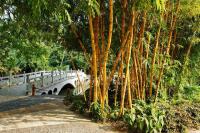 Guangxi Medicinal Botanical Garden is one of the biggest medicinal botanical gardens in China with a total plantation of over2, 100 varieties of plants. Founded in 1959, it is located in in the east suburbs of Nanning, at No.189.
Covering more than 2 million square meters, the garden is divided into seven parts, including Guangxi specialty areas, drug efficacy, shade plants, Woody drugs, herbal medicines area, climbing drug medicinal animals and area. Guangxi Medicinal Herb Botanical Garden has a wide range of collections from southern medicinal herbs to northern ones, special local herbs as well as herbs outside Guangxi and China. Here, you can see the traditional Chinese herbal medicine and specialty products, local products in Guangxi medicinal materials, as well as some good medicinal plants therapeutic effect of excavation research at home and abroad.
Guangxi Medicinal Herb Botanical Garden takes full advantage of the rich resources of Chinese herbal medicine in Guangxi province. The "Sickness Treatment Gallery" contains all the plants used in prescriptions from this ancient text and then displayed in accordance with treatment areas of the body.
More Attractions in Nanning
Recommended China Tours Including Guangxi Medicinal Botanical Garden Nanning