For many years Aberdeen Harbor was one of Hong Kong's most popular tourist attractions because of the large number of people (about 6000) who lived and worked on the junks moored there. Over the years the number of the boats has dwindled as more and more of the "boat people" have moved into high-rises or abandoned fishing as a career. The harbor is still worth a look.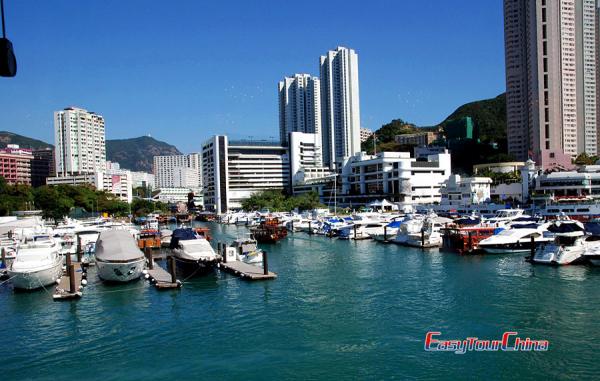 Aberdeen was named after the Secretary of State for the Colonies Earl of Aberdeen at 1848. To the Chinese, Aberdeen is still called Heung Keung Tsai (Little Hong Kong). This naturally ideal typhoon anchorage is home to few thousands of boat people and consists of two main tribes: the Tanka (literally the egg people, because they used to pay taxes in eggs rather than cash) and the Hoklo.
Also moored in Aberdeen Harbor are three luxury palace-like floating restaurants (Jumbo and Tai Pak). Sampan tours can be arranged at the Aberdeen Promenade. There are a few temples that are definitely worth visiting in Aberdeen, including the Hung Shing Temple and the Tin Hau Temple.
Aberdeen now has many luxury yachts. It's home to the exclusive Aberdeen Marina Club. Though Aberdeen has historically been a place for those poor boat-dwellers, high-rise buildings gradually erected one after another in the area. Several luxury complexes with great facilities have recently been constructed here. There are also plans to build and MTR station nearby.
More Attractions in Hong Kong
Recommended China Tours Including Aberdeen Hong Kong