Mount Fortress was once the historical military centre of Macau. Covering an area of 10,000 square meters, in the shape of a trapezoid, Mount Fortress was built on top of Mount Hill, which rises 52 meters above sea level. It has served as First residence of the Governors of Macau, Macau Museum and Meteorological Department.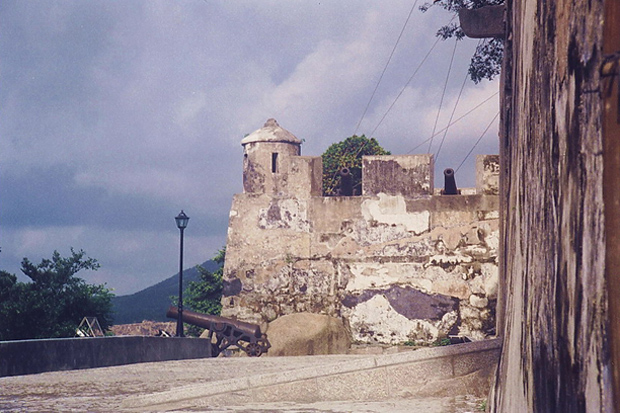 The construction of Mount Fortress was initiated by the Jesuits in 1617 and completed in 1626, for protecting the properties of Jesuit in Macau. Later it was seized by the Governor, for the defense of Macau. The Mount Fortress used to be a restricted military facility until around 1965 when the barracks were converted into a weather observatory. Mount Fortress maintaining the authenticity of the site. After completion of the Macao Museum at the site in 1998, Mount Fortress has developed into one of the most visited monuments in the city.
The Mount Fortress in Macau was well equipped with long range and short range cannons. The most interesting part of the story is that these cannons were used only once. Their thunderous sound and firing capability created shivering during the Dutch invasion of Macau in 1622. Four corners of the fortress protrude to form bulwarks. The north-eastern, south-eastern and south-western walls are built on 3.7 meter wide granite bases. The parapet sections were crenulated for the installation of 32 cannons and the two corners of the south-east wall have watchtowers. The north-western and south-western granite walls facing the Chinese mainland do not have any battlements, indicating that the fortress was built only for defense against attacks from the sea.
The museum and the park inside the fort premise are the amongst the Macau tourist attractions. The public park is designed from the trees grown from the platform of the fort. The Macau Museum inside the fort premises focuses on the history of Macau. It exhibits the way of life of the abundant communities inhibiting Macau for ages. The museum divided in to several parts. The beginning of Macau at the first floor is an undersized and comparative manifestation of the way the Chinese and Portuguese civilizations have developed before their intersection.
More Attractions in Macau
Recommended China Tours Including Mount Fortress Macau