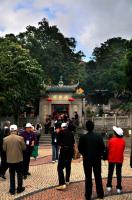 Macau offers the visitors a captivating mix of historic Chinese and Portuguese influences. Wandering through the squares or narrow alleys is easily the best way to get a fell feel for what makes Macau unique. There are some useful tips for your Macau tours.
Best Time to Macau
1. The best time to visit is during autumn (between October and December), when it is sunny and dry; with temperature around 20-25 °C. Winter (January-March) is cold but sunny. In April, the humidity starts to build up; from May to September, the climate is hot and humid, with rain and occasional tropical storms (typhoons).
2. Avoid coming on Monday or Tuesday, some of the museums close during those weekdays.
Festivals
You can plan your itinerary catering for local festivals, like Spring Festival, Dragon Boat Festival & Mid-Autumn Day, and some grand organizing international activities, such as Macau International Fireworks Display Contest (September or October), Macau Grand Prix (November) & Macau Arts Festival (March or April).
Body Health & Safety
1. Wear lightweight cotton clothing for the summer, and bring along a jacket for the winter. Rain gears are good idea during the rainy season.
2. Macau is relatively a very safe place. However, one should be beware of pickpockets, especially in crowded areas. "999" is the emergency number for the police in the city; dial 112 toll-free for the police's special tourist hotline.
Shopping & Entertainment
1. Like Hong Kong, Macau's most popular buys are jewelry (particularly gold), Chinese antiques, porcelain, pottery, electric gadgetry, and cameras. They are available at duty free prices, as Macau is a free port. Hence no sales tax is charged, but bargaining is common for many items.
2. Casinos are the biggest draw of the city. They are open 24 hours each day and FREE to enter. Have fun but play moderately.
3. The city also offers entertainment and betting at the Macau Jockey Club. Horse-racing mainly takes place every Tuesday and Saturday or Sunday at the race-course on the Taipa Island.
Tips for Entering a Casino
1. Tourists under 18 years old and locals under 21 years old are not allowed to enter.
2. Cameras are forbidden in gambling casinos.
3. The gambling casinos in Macau accept only Hong Kong dollars and Macau Patacas, and guests can exchange money either at casino counters or the nearby banks.