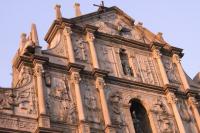 The Macau Special Administrative Region (MSAR) is a part of China's territory. It is located on the Southeast coast of China to the western bank of the Pearl River Delta. Bordering on Guangdong Province, it locates 60km from Hong Kong and 145km from the city of Guangzhou.
The Macau Special Administrative Region has an area of 28.6 sq. km, comprised of the Macau Peninsula (with 9.3 sq. km and connected to Mainland China), the islands of Taipa (6.5 sq. km) and Coloane (7.6 sq. km) and the reclaimed area COTAI (5.2 sq. km). The three bridges connecting Macau to Taipa are Nobre de Carvalho (2.5 km long), the Friendship Bridge (4.5 km long) and Sai Van Bridge (2.2 km long). The longest one (Friendship Bridge) leads directly to Macau International Airport located on the Island of Taipa. The Sai Van Bridge, which was opened on 9 January 2005, is the first cable-stayed bridge in Macau. The double deck bridge has six lanes in the upper deck and four in the lower, which will open when a typhoon hits the city. The islands are connected by a causeway which is 2.2 km long.
The total population was estimated to be 531,400. About 94% are ethnic Chinese, from different provinces, namely Guangdong and Fujian. The remaining 6% includes Portuguese and other regions. Chinese and Portuguese are the official languages, Cantonese being most widely spoken. The official languages are used in government departments in all official documents and communications. English is generally used in trade, tourism and commerce.
Macau is a Special Administrative Region of the People's Republic of China since 20 December 1999, and, like Hong Kong, benefits from the principle of "one country, two systems". The tiny SAR is growing in size - with more buildings on reclaimed land - and in the number and diversity of its attractions. The greatest of these continues to be Macau's unique society, with communities from the East and West complementing each other, and the many people who come to visit.