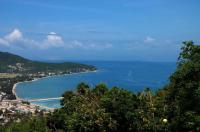 Luhuitou is a peninsula sitting in Sanya Bay with water on three sides. The peninsula park gets its name Luohuitou, which means "the deer turning its head back" from the fact that it is roughly in the shape of a deer that is looking back over its shoulder. A very romantic local Li nationality legend is said to be another derivation of it. In accordance with the moving legend, a huge sculpture 9 meters long, 4.9 meters wide and 12 meters high was set in the park. Luhuitou Park is located in the Luhuitou Peninsula in the southwest of Sanya and covers 82.88 hectare with five hills and the highest elevation reaching 181 meters.
The hilltop Luhuitou Park is famous for being an excellent place to appreciate sea-view and sunrise and Sunset or get a bird's-eye view on downtown Sanya. Inside Luhuitou Park are winding paths, scattering a Halley's comet observation station built on the mountain, a white wave-hearing pavilion, a red Guanghai kiosk, Lover's Island and other scenic spots such as Monkey Mountain, Deer House, the Hut of the Li People, Turtle's Heaven and the Immortal Pond. Wherever you go in the park, you can taste the the island's food specialty: the red coconut.
In addition to the beautiful scenery, Luhuitou Park is also the center of vegetation preservation zone of Sanya and has well-protected tropical forest and natural ecology with many precious species. In Luhuitou Bay below one can go scuba diving and view schools of colorful parrotfish, unique sea cucumber, fish worms, sea fans, coral trees, sea flowers, soft coral, sea oysters, jelly fish, sea nettle and so on.
More Attractions in Sanya
Recommended China Tours Including Luhuitou Park Sanya