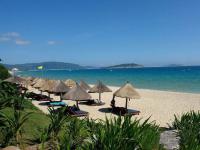 Lying in the southernmost tip of Hannan Island, Sanya is a beachfront tropical city in China. It covers 1919.6 km2 with 209.1 km coastline and 19 ports and bays as well as over 40 islands. The typical tropical climate, sugar-white beach and fresh air have granted it the title of "the Hawaii in China".
Sanya is a wonderful tourist destination featuring blue sea, graceful rivers, serene islands and beautiful bays. Ya Long Bay is one of China's most beautiful beaches. It is a private, secluded 7km strip of white sand and translucent ocean. Many international and domestic hotels have found their positions here, offering a haven of peace and luxury. Romantic Tianya Haijiao means the end of Heaven and Earth. And Nanshan Cultural Tourism Zone can show you a trinity view among the sea, mountains and rocks. More scenery is waiting for you to explore.
Sanya is the home to more 20 nationalities, such as, Han, Li, Miao, Hui etc. Li is a vigorous minority group boasting lively dance and music, unusual weaving talent. Especially, Lunar March 3rd Festival, it is the most famous occasion among the festivals of Li and Miao minorities. During that time, Li-style dances and songs always add much charm and fun to the holiday.
As a tropical city, Sanya boasts the average annual temperature of 25.5 ℃, July being the hottest and January being the coldest. The climate is pleasant all the year around, and people can enjoy their holiday here any time.