Visitors are not only impressed by the artistic shape and beautiful decoration of the structure, but also keenly interested in the stories behind the cemetery. It is said to have been the eternal place of 72 people belonging to five generations of one family, but only 58 burial mounds have survived from the history weathering. These people were descendants of Abakh Khoja, who enjoyed a great fame and a high religious status, hence the name of the cemetery.
The tomb has another name after Fragrance Concubine (Xiang Fei), who was the favorite one of Qing Emperor Qianlong (1735 - 1795). Legend has it that Qing Dynasty troops went to the aid of a tribe of Uygurs in the far northwest region of Xinjiang and in return for help in winning a civil war against neighboring tribes, the Uygurs presented Emperor Qianlong with a pretty, 22-year-old concubine called Iparkhan.
Upon her arrival to the imperial palace, the Fragrant Concubine was gifted with a garden and a luxurious room of her own as a sign of the Emperor's devotion. Homesick and distraught, she remained disconsolate as the Emperor made ever-increasing efforts to recreate her distant village, building her a mosque, miniature oasis, and bazaar outside her windows in an effort to bring her happiness. Finally she relented and came to love him when he sent messengers to Kashgar to return with a jujube tree bearing golden fruit, and the Fragrant Concubine became the emperor's cherished consort until her death (7 years in Beijing). An enduring symbol of national unity and reconciliation, her body was borne back to her home of Kashgar, where she is now entombed, in a procession of 120 bearers in a journey that took over three years.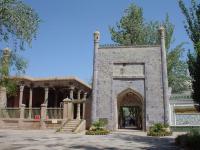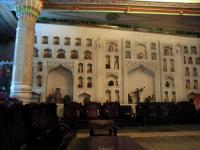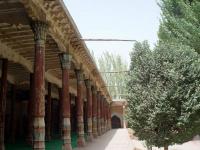 More Attractions in Kashgar
Recommended China Tours Including Abakh Khoja Tomb Kashgar