Yuantong Temple, a temple build in Tang dynasty with a history of over 1,000 years, is seated at the southern foot of Luofengshan Hill. It is the biggest temple in Kunming. Famed for its grand architecture and design, the temple was built on a hill slope.
The structure embodies the essence of the Tang architectural style. According to relevant records, the Meng royal family of Nanzhao Kingdom in the Tang Dynasty once built a temple called Putuoluo Temple on the present site. A giant Yuantong Hall was built in the monetary in the Yuan Dynasty, and it went through several renovations in the Ming and Qing Dynasties. It is the largest Buddhist complex in Kunming City proper.
Leading up to the main hall from the entrance is an extensive display of flowers and potted landscapes. The central courtyard holds a large square pond interested by walkways and bridge, and has an octagonal pavilion at the center. To the rear of the temple a new hall has been added, enshrining a statue of Sakyamuni, a gift from the king of Tailand.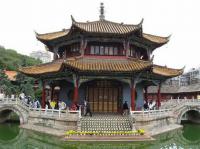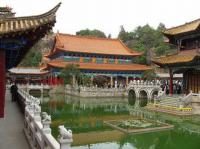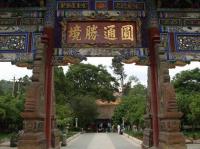 More Attractions in Kunming
Recommended China Tours Including Yuantong Temple Kunming