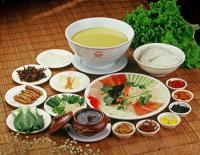 Many people agree that dining out in Kunming is a delight as there are some many unique restaurants serving different specialties. The feature of local cuisine is a perfect blend of sour and spicy flavors, which is affected by the minority's cooking way.
Kunming is also famous for its snack food. When dusk falls, many of the city's big streets and old lanes are lined with food stalls open until midnight. The ten most famous delicacies are: Cross-Bridge Rice Noodles, Four Happiness Rice Balls, Buckwheat Bun, Taishi Pie, Dudu Dumpling, Shepherds Purse Dumpling, Braised Rice with Ham and Beans, Small-pot Rice Noodles, Stewed Fungus, and Assorted Cool Rice Noodles.
International tourists can feel comfortable here too. If being fed up with the Chinese style, they can try the local western restaurants around Green Lake (Cui Hu). There are quite a few café and bars available.
Here below are some famous local dishes:
Guo Qiao Rice Noodle(Guo Qiao Mi Xian)
Guo Qiao Rice Noodle meaning Rice Noodle Running over the Bridge, has a history of over 100 years. It is prepared in a big bowl of hot chicken soup with very thick and oily gravy coved on the surface to keep the heat. Firstly the food like thinly sliced port or beef, cooked chicken, pork liver, and fish slices are put into the soup, then vegetable are added in as the second course. Finally it is the rice noodles. Please be very patient and take your time to eat the delicacy as both the bowl and soup are very hot!
Steamed Potted Chicken
The secret of this famous local dish is the unique design of the Kunming's clay pot: the pot has a shape of water chestnut with a hollow central tube that is the same height of the pot. After chopped chickens, ginger, salt, and other ingredients are added in, this pot has to be put in a larger pot with boiling water. Then the steam will come out from the central tube to warm the soup in the first pot. In this way, the chicken can be cooked very tender without damaging its original flavor.
Yiliang Roast Duck
Comparable to Peking Roast duck, Yiliang roast duck is prepared in a very special way. So the duck has a different taste, and its skin becomes yellow in color. The skin is crisp; the meat is tender and soft with an agreeable flavor of pine leaves.
Chinese restaurant:
Yikeyin Laofangzi Restaurant (Old House Restaurant):
Add: 18-19 Jixiang Lane, Dong Feng Xi Road, Kunming
Kunming Lao Shi Fu
Add: 32 Chuan Jin Road, Kunming
Da Zhai Yuan Restaurant
Add: 1st floor of Long Yue Plaza, Xiangyan Street, Renming Zhong Road, Kunming
Tang Chao Yi Pin Restaurant
Add: 18 Cui Hu Bei Road, Kunming
Western restaurant:
Bluebird Café:
Add01: Dongfeng Xi Road, Kunming
Add02: 132 Cuihu Nan Road, Kunming
Wei's Pizzeria
Add: 78 Tuodong Road, Kunming
Le Cri Du Papillon
Add: 1 Dingzi Po, Qingyun Street, Kunming
Recommended Kunming Tours