Located at the southwest of Lijiang old town, Mu's Mansion was once the residential and working site of the Naxi rulers of Lijiang in the ancient time. It was first built in Ming Dynasty (1368 - 1644). The family name of the ruler is called 'Mu', hence the name of this mansion. The family governed the Lijiang region during Yuan, Ming and Qing Dynasties, lasting for 22 generations. Their family name 'Mu' was granted by the first Emperor of Ming Dynasty - Zhu Yuanzhang in 1382.
The complex embodies the wisdom and skills of Naxi architects. The famous traveler in Ming Dynasty Xu Xiake once commented: 'It has the palace's magnificence, suitable for the King'. No wonder some people say the mansion is the Forbidden City of Naxi people. Unfortunately most of the buildings were destroyed during the warfare in late Qing Dynasty (1644 - 1912). The present Mu's Mansion was rebuilt during 1996-1999.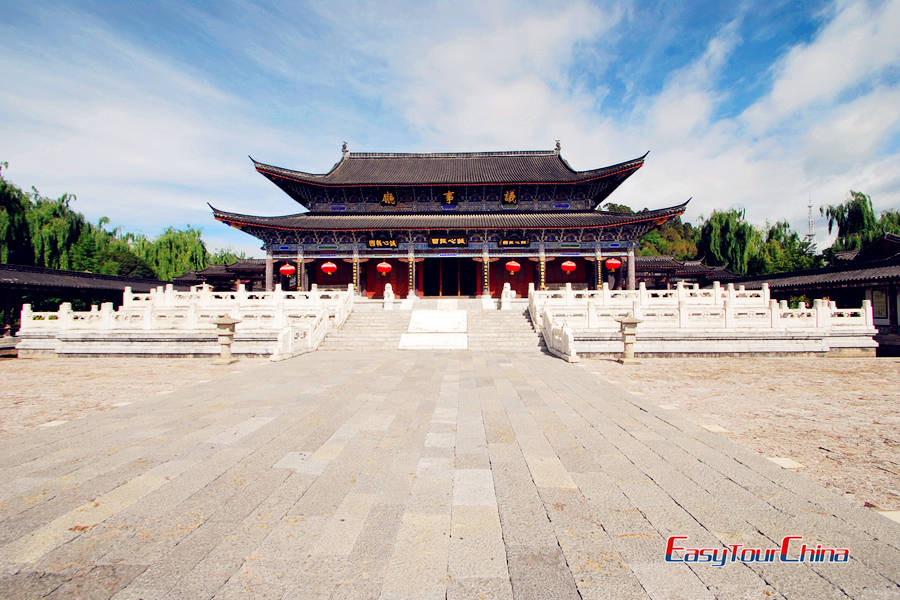 Mu's Mansion Facts
-Chinese name: 木府
-Location: No.49 Guangyuan Alley, Guanyi Street, Lijiang Old Town District
-Time needed: 2-3 hours
-Entrance Fee: CNY40/person
-Opening Hours: 08:30-17:30
-Best Time: All year round
Best Time to Visit Mu's Mansion
Generally speaking, Lijiang has unique scenery in each month, and you will have different feelings when you visit Lijiang at different time. However, Lijiang has high altitude and the weather will be cold in winter, so you need to prepare some warm clothes when you come to Lijiang during winter. Most people think the best to visit Lijiang Old Town is in autumn every year, since the weather is cool and low rainfall during this time, Lijiang Old Town looks really charming under the beautiful sunshine, and your Lijiang trip will be very relax and enjoyable.
What to See at Mu's Mansion
Mu's Mansion covers an area of 46 mu (about 8 acres) and extends a length of 369 meters (about 404 yards). With the Shizi Mountain (Lion Mountain) behind, the complex faces east. Mufu is a landmark of the ancient city, which combines the architectural style of Ming Dynasty and the crafts of Bai and Naxi ethnic group. After hundreds of years of splendor, most of the buildings were destroyed by war, and the remaining parts were seriously damaged in the earthquake of 1990, most of the buildings we can see today were rebuilt later. Mufu is the "Grand View Garden" of Lijiang ancient city, if you come to Lijiang without visiting Mufu, it is equivalent to never being here.
Stepping into the majestic front gate of Mu's Mansion, you will see the central axis is lined with the Assembly Hall, Wanjuan Tower, Dharma Hall, Guangbi Tower, Sanqing Palace and other buildings, which are extremely beautiful. On both sides of the central axis, there are more than 160 houses, such as side hall, courtyard, corridor, etc. The whole architectural is modeled after the Forbidden City.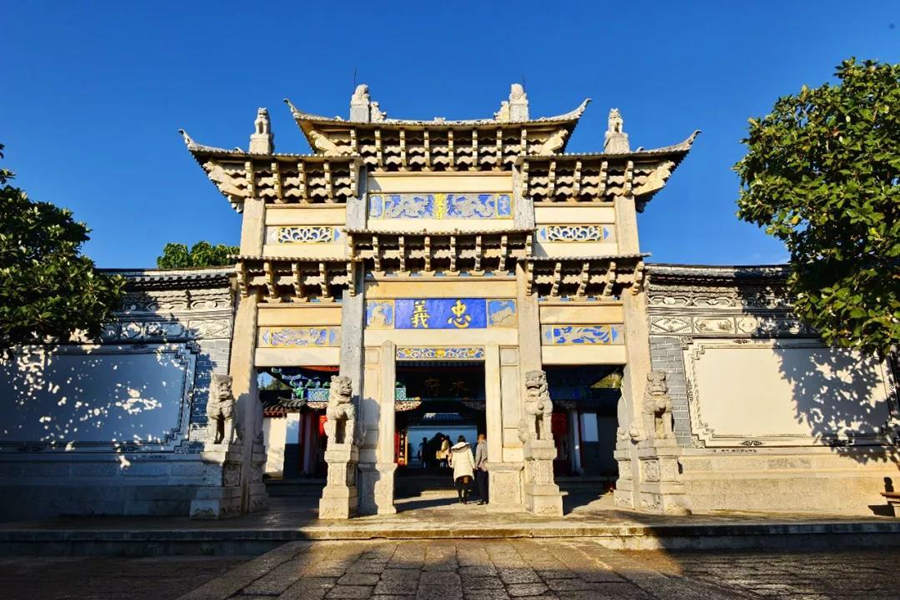 Major Attractions
Zhongyi Stone Archway
Zhongyi Stone Archway is located in front of Mufu Gate, which was built of white marble from Jinsha River. It is 9 meters wide and 18 meters high, supported by four stone pillars. The plaque in the middle is engraved with the word "Zhongyi" (means loyalty and righteousness" that granted by Zhu Yijun, the 13th emperor of Ming Dynasty. This stone building is famous for its magnificent structure and exquisite carvings, people often say "Dali Three Pagodas Temple, Lijiang Stone Archway".
Assembly Hall
The Assembly Hall is located on the central axis of Mufu, it is the place where the chieftain of Mu Family discuss politics. This Assembly Hall is equivalent to the Hall of Supreme Harmony of the Forbidden City, so it is large and magnificent. The Assembly Hall is surrounded by waterway, which is very beautiful.
Ten Thousand Book Tower
The Ten Thousand Book Tower is located behind the Assembly Hall, which was built in the Jiajing Period (1522-1566 AD) of Ming Dynasty, it is one of the largest book tower in Yunnan. There are large numbers of historical and cultural literatures, calligraphy and paintings of famous masters, and manuscripts and engravings of Mu's poetry anthologies, which are all the manifestation of Mu's culture.
How to Get to Mu's Mansion
1. Train: Take bullet train from Kunming to Lijiang which will takes around 3hours, and then take bus No.18 to Dayan Middle School Station, walk around 900 meters can arrive at the South Gate of Lijiang Old Town. You can also take taxi from rail station to the Old Town, the cost is around CNY40. It is easy to find Mu's Mansion when you arrive at Lijiang Old City.
2. Flight: Take flight from Kunming Changshui Airport which will takes around 40mins. Upon arrival, you can take taxi to Lijiang Old Town directly, or take the airport shuttle bus to the downtown area, or you can take bus No.27 and get off at Zhongyi Guangchang. It is easy to walk from the bus station to Mu's Mansion.
More Attractions in Lijiang
Recommended China Tours Including Mu's Mansion (Mufu) Lijiang