As the most beautiful minority ancient city in China, Lijiang food is mainly composed of hot pot, local snacks and Naxi cuisine. The taste of Lijiang cuisine is spicy, chili are used in many dishes. Lijiang cuisine belongs to Yunnan cuisine, which is a local cuisine with the most ethnic characteristics. People have chance to taste different local flavor in different seasons. Every June to October is a good time to eat wild mushroom. Eating wild mushrooms is very beneficial to health and beauty, it is also a unique delicious meal in Lijiang. Although the salmon and preserved pork rib in Lijiang can't be regarded as the typical Lijiang dishes, they are very popular and many people come to taste them when they travel in Lijiang. In addition, there are many representative snacks in Lijiang, such as Jidou Liangfen, Naxi roast fish, Lijiang Baba, etc.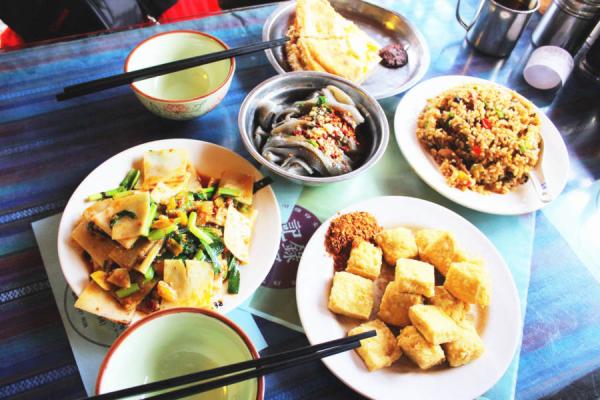 Tasty Lijiang Local Foods
1. Jidou Liangfen
Jidou Liangfen (Chicken pea jelly) can be regarded as the signature snack of Lijiang Old City. Jidou (Chicken pea) is a unique bean that grows locally. It is named Jidou because its shaped like the eye of chicken. Jidou Liangfen is made of this kind of pea and jelly-like. Though with a weird color, it is one of the most popular foods in Lijiang.

2. Lijiang Baba
Lijiang Baba is a unique flavor food of Naxi nationality which has a long history. It was recorded in The Travel Notes of Xu Xiake in Ming Dynasty. Lijiang Baba has two flavors, salty and sweet, it tastes crisp and delicious. If you eat Lijiang Baba with yak better tea, it tastes better. There are many shops selling Lijiang Baba in Sifang Street of Lijiang Old City, many local people also like to buy there. Lijiang Baba is not easy to go bad, so it can be used as dry food for long journey or as a gift for friend.
3. Wild Mushrooms Hot Pot
Yunnan province is the kingdom of wild mushroom, the plateau area of Lijiang is famous for producing wild mushroom. The growing season of wild mushroom in Yunnan is mainly from June to September. There are many kinds of wild mushrooms at this time, including boletus, chicken leg mushroom, termjte mushroom, matsutake, etc. The wild mushrooms can be cooked with Black-bone chicken soup, or cook in a hot pot. There are many restaurants that specialize in eating wild mushrooms. After eating wild mushrooms, be sure to scoop up a bowl of soup, it is pure and absolutely fresh soup.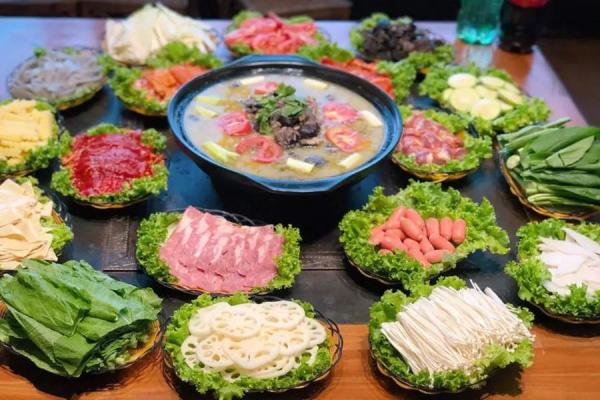 4. Lijiang Preserved Pork Rib
Lijiang preserved pork rib are made of pork ribs, marinated with a lot of salt for 15 days, and then dried in a shady and ventilated place for one to three months. The best preserved pork ribs are dry and firm, bright in color, no mildew on the surface, and have a light meat smell. The longer the preserved ribs are kept, the more fragrant they will become. Lijiang preserved pork ribs play a very important role in Naxi diet culture, and it is the main dish of Naxi people's banquet.
5. Steam Pot Chicken
Steam Pot Chicken is one of the famous dishes in Yunnan province, it was popular among the people in southern Yunnan more than 2000 years ago. This kind of steamer that used to make steam chicken was produced in Jianshui, which is specially used to steam food. The chicken is gradually steamed by steam through the nozzle in the middle of the pot, all the soup is made of steam, which basically keeps the original flavor of the chicken.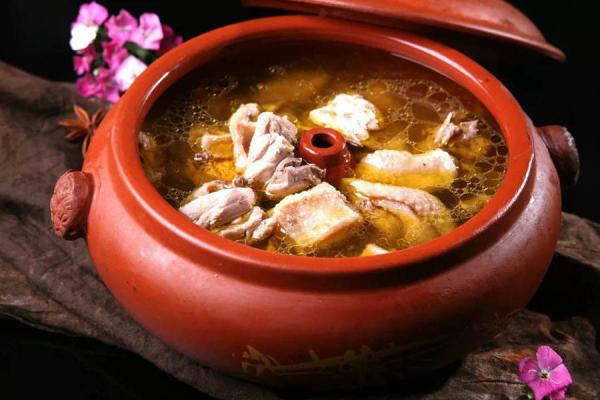 6. Fried Eggs with Azaleas
Lijiang is known as the kingdom of plants, there are more than 100 varieties of azaleas alone. Because most of azaleas contain slight toxin, so there are only few kinds of azaleas can be eaten. Cooking the eggs and azaleas with great care, make it to be a special dish in flower feast.
Famed Food Street or Area
The area that around Dashiqiao, Zhongyi market and Sifang Street in Lijiang ancient city are snack centers. Sifang Street is the most famous food street in Lijiang ancient city. There are dozens of small restaurants on both sides of the narrow street. Each restaurant has unique rice noodles in Yunnan, local people also call it "Lijiang rice noodles street". The food area in the new town is mainly concentrated in Huadu Shangmaocheng of Qixing street, Xiangshan market, Huama Street and Jinkai Square. In addition, you can see most authentic local life style in the Zhongyi market near the ancient city and can taste delicious Lijiang traditional snacks.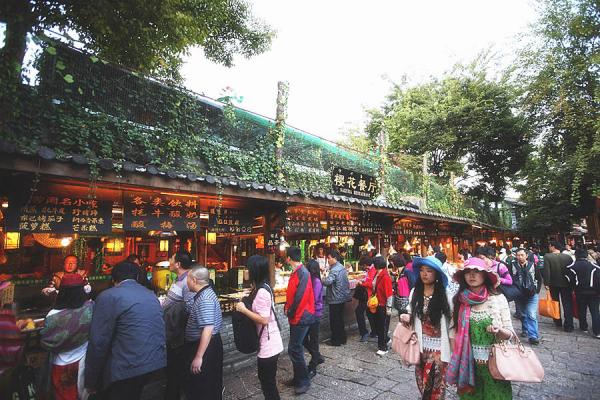 Recommended Chinese Food Restaurant
V. sherry Restaurant
(Vegetarian Friendly)
No.95 Xingwen Alley, Qiyi Street, Gucheng District, Lijiang 674100 China
Tel: 0888-5111196
Rice Slurp
(Vegetarian Friendly)
No.43 Chongren Alley, Lijiang Ancient Town, Lijiang 674100 China
Tel:18201720480
One Restaurant
4-14 Renli Road, Gucheng District, Lijiang China
Tel: 0888-5136681
Recommended Western Restaurant
N's Kitchen
(Vegetarian Friendly)
2F, 17 Jishan Alley, Xinyi Street Water Wheel Square, Lijiang China
Tel: 0888-5120060
Cornerstone Café
(Vegetarian Friendly)
Minzhu Rd 2-115 Longtan Square, Lijiang 674100 China
Tel: 18988003356