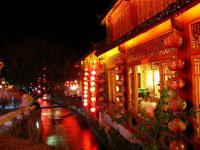 Lijiang is separated into the old and new town with Lion Hill (a local landmark) marking the "dividing line". East of the hill is Lijiang Old Town, and to the west is the new town district. Read about the following travel tips for a pleasant Lijiang tour!
Best Time to Lijiang
1. Lijiang enjoys abundant sunshine all year round, favored with fresh air and charming natural scenery. It allows visitors to get there at any time. The best periods to visit Lijiang are April, May, September and October, during which the weather is the most pleasant.
2. If you like snowy scene, you may visit here during January to March, but as the trend of global warming, you can only experience it by chance!
3. Of course, you can also plan your itinerary catering for local festivals: San Duo Festival (Date: Feb 8th of the Chinese lunar calendar); Torch Festival (Date: Jun 24th to Jun 26th of the Chinese lunar calendar); Mi La Festival (Date: May 15th of the Chinese lunar calendar), etc.
Body Health & Safety
1. In the Lijiang Old Town, it is not allowed to ride the bike and you only can walk your bike.2. There are 13 ethnic groups live in Lijiang. When visit their families, you'd better respect their etiquettes and taboos.
3. Except for summer, when T-shirts and trousers are enough, it's advisable to take some warm clothes in the other three seasons. And, don't forget to protect yourself from the strong radiation from the sun.
4. Lijiang has a clear annual distinction between the rainy and dry seasons. The rainy season lasts from every May to October, extremely July and August. That's important to know because heavy rains can trigger rock and mud slides, which can block roads.
Shopping & Entertainment
1. Lijiang Old Town is an ideal place to buy souvenirs and Naxi-style handicrafts, such as Bunong Bells, Juyiyuan, Shiqingmao Woodcarvings, and Caogen Wu.
2. Square Street in Lijiang old town is the most traditional shopping market in Lijiang. Many shops sell various kinds of local products and you can bargain with owners.
3. Business hours in Lijiang (new town) are not fixed with most businesses operating from 9am-7pm.
4. If you wander around town long enough, you're bound to see impromptu performances at a local park, along a stream, or even at someone's house!