Located on the southeastern edge of the Qinghai-Tibet Plateau, and the middle reaches of the Jinsha River, Lijiang is an important stop for the ancient "Southern Silk Road" and "Tea Horse Road". Now, as a popular tourist destination, Lijiang is a wonderful combination of ethnic culture, minority ancient towns, alpine lakes, deepest valley, heritage sites, snow-capped mountains, modern glaciers, etc. When planning a Lijiang trip, the following information must be really helpful for you.
Lijiang Best Travel Time
1. Lijiang enjoys abundant sunshine all year round, favored with fresh air and charming natural scenery. It allows visitors to get there at any time. The best periods to visit Lijiang are April, May, September and October, during which the weather is the most pleasant.
2. If you like snowy scene, you may visit here during January to March, but as the trend of global warming, you can only experience it by chance!
3. Of course, you can also plan your itinerary catering for local festivals: San Duo Festival (Date: Feb 8th of the Chinese lunar calendar); Torch Festival (Date: Jun 24th to Jun 26th of the Chinese lunar calendar); Mi La Festival (Date: May 15th of the Chinese lunar calendar), etc.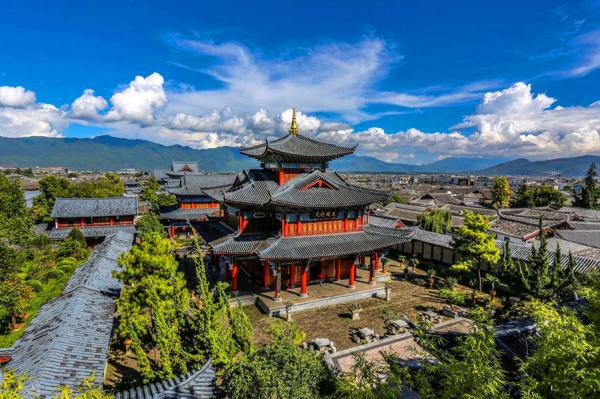 How Many Days Should you Spend in Lijiang?
You are suggested to spend 3 to 6 days for an essential Lijiang trip, depending on how many sites you want to pick up.
>> Recommended China Lijiang tour packages:
Lijiang Tour with Jade Dragon Snow Mountain
Lijiang Adventure Tour with Tiger Leaping Gorge Hiking
Splendid Lijiang and Lugu Lake Tour
Lijiang Safety Tips
1. In the Lijiang Old Town, it is not allowed to ride the bike and you only can walk your bike.
2.There are 13 ethnic groups live in Lijiang. When visit their families, it's suggested to respect their etiquettes and taboos.
3. Except for summer, when T-shirts and trousers are enough, it's advisable to take some warm clothes in the other three seasons. And, don't forget to protect yourself from the strong radiation from the sun.
4. Lijiang has a clear annual distinction between the rainy and dry seasons. The rainy season lasts from every May to September, extremely in July and August. That's important to know because heavy rains can trigger rock and mud slides, which can block roads.
5. There are many bars in Lijiang Ancient Town. It's suggested not to drink too much alcohol.
How do you get to Lijiang?
By air
There are two airports with Lijiang area, the Lijiang Sanyi International Airport and Ninglang Lugu Lake airport.
The Lijiang Sanyi Airport is located in Qihe Town, Gucheng District, Lijiang City, and is the second largest airport under the Yunnan Airport Group. Up to now, there are 34 airlines operating in Lima, 74 cities, and 7 international and regional routes. The downtown area of Lijiang is about 30 kilometers away from Lijiang Sanyi International Airport, and the journey takes about 50 minutes. The airport shuttle bus runs between Lijiang Sanyi airport and the Lantian Hotel, which is about 1km away from the exit of the Lijiang Ancient Town.
The Ninglang Lugu Lake airport was officially opened to air traffic on October 12, 2015. The altitude of 3293 meters makes it the highest airport in Yunnan Province. As of September 2018, Ninglang Lugu Lake Airport has connected with 4 cities by air, Kunming, Guiyang, Chengdu and Chongqing.
By Train or bullet train
Lijiang Railway Station is located in Lijiang City, Yunnan Province. Up to 2011, the construction area of Lijiang Station is 11891 square meters, the total area of the waiting room is 6971.61 square meters, and the scale of the station is 3 platforms and 7 train lines.
Public bus No. 16, 18, 104, 4 can help you reach the Lijiang Ancient Town from the Lijiang train station.
By Bus
There are two bus stations in Lijiang, the Lijiang Bus Station 丽江客运站 and the Express Bus Station 高快客运站. If you are heading to Xicang, Jinghong, Tengchong, Ruili, Shangri-la, Lanping, Eryuan, Weixi, Yongsheng, then go for the Lijiang Bus Station (丽江客运站). If you are heading to Kunming, Xiaguan, Baoshan, Shangri-la, Lugu Lake, then the Express Bus Station(高快客运站) is good for you.
How do you get around Lijiang? Transportation within Lijiang
Public bus, taxis are available in Lijiang. Lijiang is not a very large city, so it's feasible and suggested to ride bicycles from site to site.
Private car service can be offered by tour agents like Easy Tour China. Get in touch with us quickly, and start to plan your trip in Lijiang.
Shopping in Lijiang, What to buy
As one of the most famous tourist cities in China, and an important commercial center for the ancient "Southern Silk Road" and "Tea Horse Road", Lijiang has so many local featured products. Tourists have a wide variety of choices in taking their souvenirs.
1. Dongba Wood carving
Among Naxi art, wood carving is the most attractive. Needless to say, the high-ranking households, even ordinary dwellings, also love carving various patterns on eaves, windowes, doors, and furniture. Now in pursuit of fashion, new buildings and new furniture are not often carved, so sculptors turn to carve small objects and make them unique Dongba wood carving souvenir. Dongba woodcarving is mainly made of rhododendron wood, which is a kind of tree that blooms in April and May. Sculptors use line carving, relief carving, and three-dimensional carving on this kind of wood to sculpt different kinds of shape. These patterns are very simple and beautiful, with exotic flavor.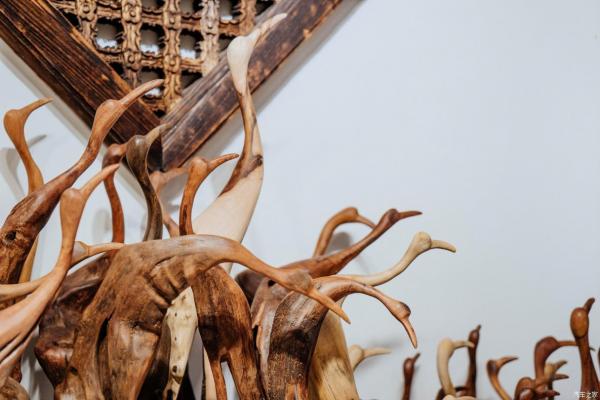 2. Dongba Batik
Dongba batik is a new printing and dyeing craft based on the craftsmanship of Guizhou Miao batik and Dali Bai batik, with Naxi Dongba painting and calligraphy as the content. Drawing on a piece of cloth, the craftsmen use a special knife to dip in melted wax to paint Dongba calligraphy and painting, dip dye with natural dyes after the wax turn into solid, and then finally boil the wax to remove the wax. The patterns produced after the wax is removed. It's not easy to master the thickness, density and direction of the patterns in order to accurately create the image. In addition to batik clothing, there are batik travel bags, handkerchiefs, curtains, decorative paintings, sofa towels, etc.
3. Hand-woven Shawl & Scarf
In Lijiang, hand-woven shawl and scarf are very popular. Because of the weather reason, the girls walking in the ancient city always wear a very attractive and ethnic shawl. The shops selling shawls & scarf in the ancient city of Lijiang are dazzling one after another. There are many types and materials of shawls, including wool, cotton, and silk. The most special type is the hand-woven shawl and scarf. They are big, thick, and warm. The hand-woven shawl is very distinctive. Wearing a local featured shawl, it feels like you wear Yunnan's colors on.
4. Hand-embroidered hanging paintings
Silk has always been favored by people, especially the nobles, for its soft and bright, warmth, comfort and durability. There are two main types of Naxi hand-embroidered embroidery. One is folk embroidery for personal use, which is mainly hand-made aprons, hats, insoles, shoes, pillowcases, duvet covers, etc., with different kinds of patterns, like stars and moons, flowers, birds…The raw materials are mainly hand-woven cotton and linen cloth. The other is high-end luxury silk embroidery. They are mainly for the costumes of dignitaries, Dongba costumes and paintings. This kind of embroidery combines painting and embroidery, with strong artistry. With the development of Lijiang's tourism culture, traditional culture is highly valued. Traditional hand embroidery has once again become a luxury item in people's lives.
Entertainment in Lijiang
Lijiang, located in the northwestern part of Yunnan Province, is one of the most famous tourist cities in China, and the Lijiang Ancient Town (Dayan Old Town) is a tourist attraction that many tourists are yearning for. In addition to being world-famous cultural heritage, Lijiang Ancient Town is also famous for its rich "nightlife". Most ancient towns become quiet at night, not like Lijiang. Lijiang Old Town becomes more vibrant at night. There are a lot of bars in the Lijiang Old Town, and the density of bars there is really amazing. These bars with closed doors or quiet atmosphere during the day will immediately become lively and busy at night.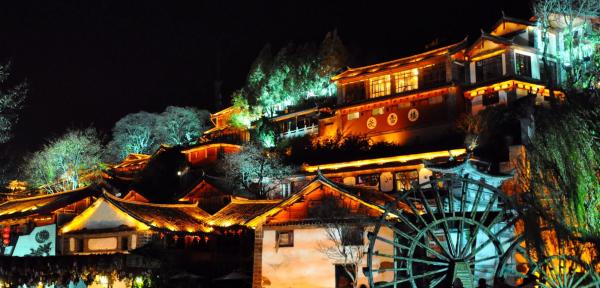 Eating & Drinking in Lijiang
In Lijiang, many kinds of flavor can be found here. Among all the local Naxi cuisine and Sichuan cuisine, Western foreign cuisine are most popular. Here are some recommended restaurants that you can try while you are travelling in Lijiang. But these restaurants might be too busy, so you can also ask for recommendations from your local guide if you have one.
1. V Sherry Restaurant
No.95 Xingwen Alley, Qiyi Street, Gucheng District, Lijiang
+86 888 511 1196
2. Yue Huo Tang - Jinmao Hotel Lijiang, the Unbound Collection by Hyatt
No. 8 Xiangjiang Road, Gucheng District, Lijiang
+86 888 531 1234
3. N's Kitchen
2F, 17 Jishan Alley, Xinyi Street Water Wheel Square, Lijiang
+86 888 512 0060
4. Cornerstone Cafeé
Minzhu Rd 2-115 Longtan Square, Lijiang
+86 189 8800 3356
Lijiang Festivals
Sanduo Festival
The Sanduo Festival is the most grand traditional festival of the Naxi people. On the day of the Sanduo Festival, ancient music is played all over Lijiang, and the Naxi people sing and dance together. Some Naxi people also bring hot pots to the scenic places such as Lashihai for a picnic to celebrate the festival.
Date: Lunar February 8th
Torch Festival
During the three days of the Torch Festival, the Old Town of Dayan in Lijiang was the most lively place, hosting various activities. According to ancient customs, the Naxi people lighted three torches at night. The young people in the stockade held small, long, small torches, and walked along the ridge and mountain roads, singing and singing until late at night. The more the torch burns, the more auspicious and the happier people are.
Date: June 25th to 27th of the lunar calendar
Zhuanshan Festival
The Zhuanshan Festival is the most important festival for the Mosuo people near Lugu Lake. According to legend, the ancestors of the Mosuo were born on this day. During the festival, the Mosuo people wear the most gorgeous national costumes and perform various activities such as worshiping the goddess, singing and dancing, archery contest, and making friends.
Date: Lunar July 25th