Overview
Lijiang, a prefecture-level city in Yunnan Province, is located on the southeastern edge of the Qinghai-Tibet Plateau, and the middle reaches of the Jinsha River. It is an important stop for the ancient "Southern Silk Road" and "Tea Horse Road". The center of Lijiang urban area is located at 100°25' east longitude and 26°86' north latitude, with a total area of 20,600 square kilometers. Lijiang includes 1 city and 4 counties. By the end of 2020, Lijiang has a registered population of 1,236,067.
Lijiang old town (including Dayan, Baisha and Shuhe) was registered on the UNESCO World Heritage List in December 4, 1997. Its historical architectures and complex, ancient water-supply system distinguish Lijiang old town from others. With a history of nearly 800 years, the Lijiang old town is also an exceptional ancient town set in a dramatic landscape which represents the harmonious fusion of different cultural traditions to produce an urban landscape of outstanding quality. In addition to the Han, there are around 22 ethnic minorities living here.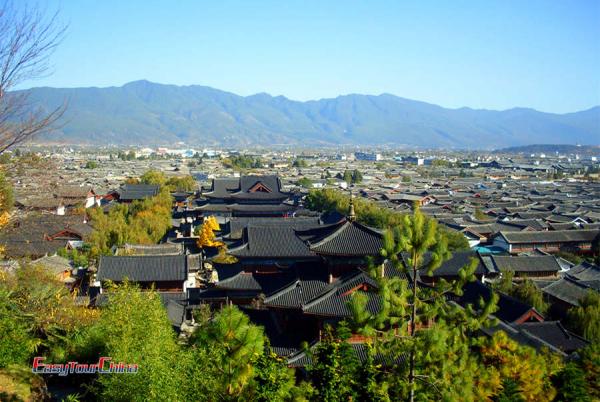 Lijiang Facts
Chinese Name:丽江
Location: Northwest Yunnan
Opening hours: all day
Average Altitude: 2400m.
Reachable by: Flight, train, bus.
Climate: Subtropical monsoon climate
Entry Ticket price: from RMB50 (since 2019)
Airport: Lijiang Sanyi International Airport
Lijiang History
According to the record, Lijiang was marked as Lijiang in year 1276. Lijiang got its name from the Jinsha River which was named Li Shui in the old time. One hundred thousand years ago, the sapiens "Lijiang people" of the late Paleolithic were already active in this place. The discovery of cave rock paintings in the Jinsha River Valley and the numerous stone tools, bronze, and ironware prove that Lijiang is one of the important areas for ancient human activities in southwest China.
Lijiang was used to be ruled by the Mu family, the native chieftains, during the Ming & Qing Dynasties. After lots of changes, Lijiang City replaced the former manage agents in 2002 and finally named Lijiang City, covering present area.
The Baisha Old Town was once the political, commercial and cultural center for the local Naxi people and other ethnic groups for 400 years from the year 658 AD to 1107AD, and then the ruler Mu family moved to the Lion Hill and built the present Danyan Ancient Town.
Top things to do in Lijiang
Lijiang Old Towns
There are many towns around Lijiang, and the most popular ones are Dayan Old Town, Shuhe Old Town and Baisha Old Town, which are listed on "World Cutural Heritage" together. When we talk about Lijiang Old Town, it usually refers to the Dayan Old Town of Lijiang.
Dayan Old town, a national-level historical and cultural city, was built in the late Song and early Yuan Dynasty (late 13th century AD). It is a very well-preserved ancient town built by Naxi people with unique cultural background. The core area of the ancient town covers an area of 3.8 square kilometers. Inside the Dayan Ancient Town, Sifang Street, Mufu Palace, Wufeng Tower, and the Waterwheel are highlighted spots.
The Shuhe Old Town, also known as Shuhe Ancient Town, was one of the earliest settlements of Naxi ancestor in the Lijiang area. Nestled at the foot of Jade Dragon Snow Mountain, 6 km northwest of Lijiang old town, Shuhe was once a staging post at ancient Tea & Horse Road. Shuhe town is just like a small-sized Lijiang with a similar layout, which boasts a Square Street (Sifangjie) and rivers flowing at downtown. Compared with Lijiang, the town is less touristy and polished with more original characters.
The Baisha Ancient Town is located about 10 kilometers north of Lijiang City, bordered by Yulong Snow Mountain in the north. It used to be the ancient capital of the Naxi nationality and the center of culture. As one of the important birthplaces of the Naxi culture, the Mu family chieftain of the Naxi people has accumulated experience in planning towns in Baisha before moving to Dayan Ancient Town. In the ancient town of Baisha, "Baisha Murals" is the must-see highlight. The painting of the "Baisha Mural" lasted for more than 300 years from the early Ming Dynasty to the early Qing Dynasty. There are 55 pieces of Baisha murals in the town, most of them were created in the Ming and Qing Dynasties. Now they are stored in Dabaoji Palace, Liuli Palace, Dading Pavilion and Dajue palace respectively. The murals at Dabaoji Palace are the largest one in Lijiang.
Jade Dragon Snow Mountain
Located 15 km north of Lijiang old town, Jade Dragon Snow Mountain (Yulong Snow Mountain) stretches 35 km from north to south with 960-square-kilometers of snow-capped area. It has the southernmost glacier in the Northern Hemisphere. Of all the 13 peaks on the mountain, Shanzidou is the highest with an altitude of 5,596 meters above sea level. As one of the first batch 5A-level national scenic spots officially approved by the National Tourism Administration, and a national-level glacier geological park, the Jade Dragon Snow Mountain attracts a huge amount of tourists from home and abroad every year. In the Jade Dragon Snow Mountain area, the highlights are the Glacier Park, Impression of Lijiang, Spruce Meadow, Yak Meadow, Blue Moon Valley and so on.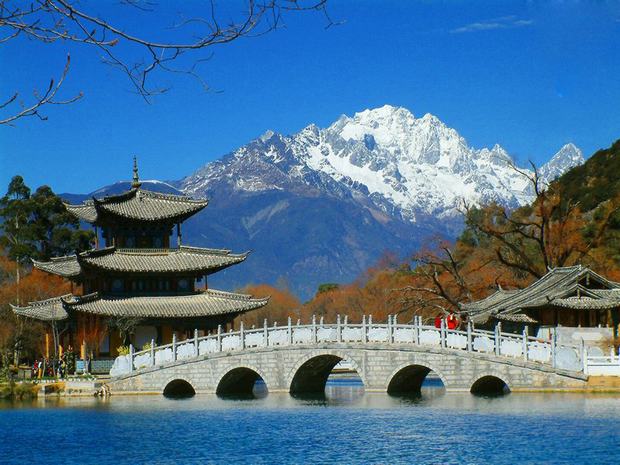 Tiger Leaping Gorge (Hu Tiao Xia)
98km south of Shangri-La, and 80 km north of Lijiang old town, Tiger Leaping Gorge is a canyon on the upper reach of the Yangtze River, which part is usually called Jinsha River (Golden Sand River). The gorge is located where the river passes between 5,596-meter-high Jade Dragon Snow Mountain and 5,396-meter-high Haba Snow Mountain in a series of rapids under lofty 2000-metee-deep cliffs. Legend says a tiger could jump across the river at the narrowest point (still 25 meters wide), hence the name.
Different HIKING ROUTES along Tiger Leaping Gorge are available for different needs. Get to know Tiger Leaping Gorge hiking route & itinerary, map, road conditions, elevation and detailed.
Lugu Lake
Lugu Lake is a gem located at the mountainous area on the border of Sichuan and Yunnan Province. About 240 km northeast of Lijiang, the lake occupies an area of 50 square kilometers with the average water depth of 45 meters. The lake is sparklingly clear, dotted with 5 islands, as the highest lake in Yunnan province with an altitude of 2,685m. Lugu Lake Scenic Area, with its typical plateau lake natural scenery and unique Mosuo matriarchal ethnic culture, has formed a distinctive natural landscape and humanistic landscape. Due to its beauty, Lugu Lake is regarded as the "Mother Lake" by the local Mosuo people, and "fairy land" by lots of outsiders.
How to get to Lijiang
By air
There are two airports with Lijiang area, the Lijiang Sanyi International Airport and Ninglang Lugu Lake airport.
The Lijiang Sanyi Airport is located in Qihe Town, Gucheng District, Lijiang City, and is the second largest airport under the Yunnan Airport Group. Up to now, there are 34 airlines operating in Lima, 74 cities, and 7 international and regional routes. The downtown area of Lijiang is about 30 kilometers away from Lijiang Sanyi International Airport, and the journey takes about 50 minutes. The airport shuttle bus runs between Lijiang Sanyi airport and the Lantian Hotel, which is about 1km away from the exit of the Lijiang Ancient Town.
The Ninglang Lugu Lake airport was officially opened to air traffic on October 12, 2015. The altitude of 3293 meters makes it the highest airport in Yunnan Province. As of September 2018, Ninglang Lugu Lake Airport has connected with 4 cities by air, Kunming, Guiyang, Chengdu and Chongqing.
By Train or bullet train
Lijiang Railway Station is located in Lijiang City, Yunnan Province. Up to 2011, the construction area of Lijiang Station is 11891 square meters, the total area of the waiting room is 6971.61 square meters, and the scale of the station is 3 platforms and 7 train lines.
Public bus No. 16, 18, 104, 4 can help you reach the Lijiang Ancient Town from the Lijiang train station.
Lijiang Nightlife
Lijiang, located in the northwestern part of Yunnan Province, is one of the most famous tourist cities in China, and the Lijiang Ancient Town (Dayan Old Town) is a tourist attraction that many tourists are yearning for. In addition to being world-famous cultural heritage, Lijiang Ancient Town is also famous for its rich "nightlife". Most ancient towns become quiet at night, not like Lijiang. Lijiang Old Town becomes more vibrant at night. There are a lot of bars in the Lijiang Old Town, and the density of bars there is really amazing. These bars with closed doors or quiet atmosphere during the day will immediately become lively and busy at night.
Lijiang main Minority Ethnic Culture
Naxi (or Nashi or Nakhi)
The Naxi people mainly live in Lijiang, and they have their own language. Family organizations are widespread among the Naxi people, and they are a highly concentrated ethnic group. The father has great power in society and in the family. Major events such as marriage, funerals, and building construction all are decided by man. Only when the father is absent, the mother can assume part of the father's power.
The Naxi people generally live in plain, river valleys and mid-levels. Folk houses in the dam area are mostly tiled houses with civil structures, and the layout is mostly "three houses and one wall". The mountainous areas are mostly low wooden houses with wooden roofs. The Naxi people are good at singing and dancing, and they often perform mass singing and dancing activities in labor and ethnic festivals. The "Sanduo Festival" at the beginning of the second month of the lunar calendar is the most solemn traditional festival for the people of Naxi.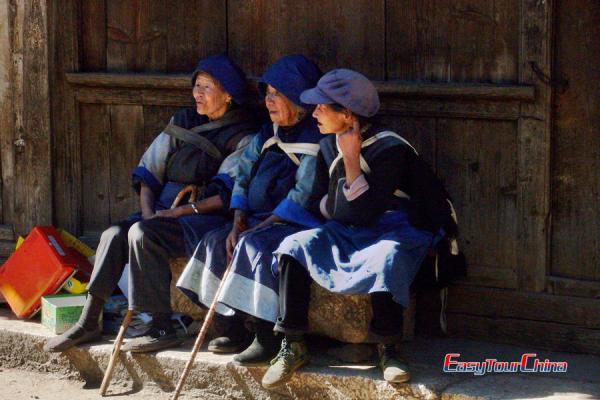 Mosuo
The Mosuo people live on the shores of Lugu Lake at the junction of Sichuan and Yunnan. They have a population of about 50,000. Mosuo people have their own national language but no written character. Strictly speaking, Mosuo is a branch of the Naxi ethnic group. Mosuo people are known for its matriarchal society and marriage custom. Here women and men usually do not get married, unless the family needs a female successor or male labor. Young women and men express their feelings to each other through singing and dancing. After they have an emotional foundation, they both agree to "walking marriage". Then the man can only sneak into the woman's room after nightfall, and leave before dawn. The children born in walking marriage are brought up by the woman's family, and the man does not take the responsibility of raising children, but the father and children admit their parent-child relationship. Family house and property is inherited by women.
Lijiang Cuisine
Traditional Naxi cuisine includes many kinds of snacks and dishes with local feature taste. Here below are some native dishes. No worry if you only like western style food. Many restaurants and cafes provide varieties of western food like pizza, hamburgers, sandwich, spaghetti and others.
1. Preserved Ribs Hot Pot: The main ingredient of the dish is pig's rib, which is preserved with salt and air dried for a long time. Air drying salted pig's rib brings a stronger flavor. It is usually served with fresh vegetables: mint, leek root, tomatoes, celery, yam, wild mushrooms, mushrooms, isatis root, vermicelli, etc. Cooking these ingredients together with a special sauce, nobody can stop the curiosity to try it.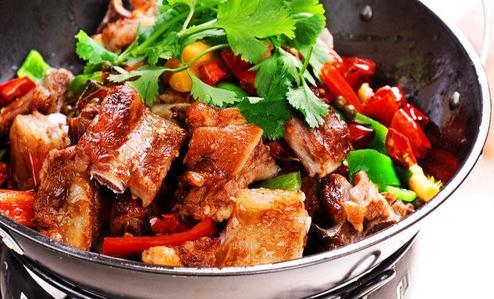 2. Chicken pea jelly: Chicken pea jelly is a traditional food loved by the Naxi people. It is a kind of soybean. This kind of beans is milled to powder and then make different shape noodles, which is gray-green in color. With different seasoning, it comes up with different taste, but always makes people mouth watering. It is a popular dish on the table of the Naxi people.
3. Lijiang Baba: The main raw material is local wheat powder, mixed with such as ham, sugar, potato, sesame, etc. Usually there're two flavors available for travelers to try.
4. Rice & Blood sausage: Rice & Blood sausage is a kind of sausage made of pig blood, rice and various spices, mixed together according to a certain ratio, and then poured into pig intestines. Cook in a steamer, and then cut into slices. It taste really special and you may like it if you are ok with the ingredients.
5. Naxi Barbecue: "Naxi Barbecue" is a traditional horse caravan dish popular on the Lijiang Ancient Tea Horse Road. The main ingredient is streaky pork. Fat but not greasy, thin but not too dry, it has a crispy taste.
6. Eight Treasures Pineapple Rice: This is a traditional Lijiang specialty. It is glutinous rice, mixed with sugar, oil, osmanthus flowers, red dates, lotus seeds, longan, and other materials, and then steamed. Finally served in an empty pineapple. The taste is sweet, and it is a good treat for festivals and hospitality.