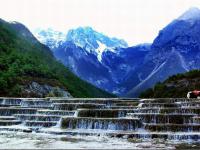 Lijiang is an exceptional ancient town set in a dramatic landscape which represents the harmonious fusion of different cultural traditions to produce an urban landscape of outstanding quality.
- UNESCO World Heritage
Located at the northwest corner of Yunnan Province, Lijiang is a small peaceful town set in a valley and distinguished by an intricate system of narrow waters and canals. With an elevation of 2400 meters above sea level, the urban area covers 6 square kilometers with a population of 60,000.
Nestled beneath snow-capped peaks, Lijiang is a living museum as it is home to the Naxi people who have steadfastly preserved their centuries-old heritage. They still live in traditional homes, play ancient music and celebrate ethnic festivals with vitality. Originally the town is called Dayan, which has nearly 800 years of history. More than 4000 families still live here.
Lijiang old town (including Dayan, Baisha and Shuhe) was registered on the UNESCO World Heritage List in December 4, 1997. Since then, the local government has taken more responsibility for the development and protection of the old city. Lijiang's tourism also boomed, and travellers from around the world flooded in; although many locals fear that due to much of the development, the old town of Lijiang will lose its appeal.
Most interesting attractions here included the old town (Dayan), Jade Dragon Snow Mountain, Tiger Leaping Gorge and Shuhe Village.