Jimei is a suburb of Xiamen City connected to Xiamen Island by a 2,212-metre long granite causeway. Jimei is also the residence of Mr. Tan Kah-kee, a famous overseas Chinese philanthropist. Encircled by the sea on three sides, the town is known for its magnificent buildings combining western and oriental styles and picture-postcard sceneries. As a tourist site, Jimei has the following attractions to offer: Jimei School Village, Aoyuan (Turtle Garden), Returnees' Hall, and Wanbao Hill Sightseeing Farms.
Jimei School Village, blending the Chinese architectural style with western one, has become a symbol of Jimei. Every year, during the Dragon Boat Festival, the dragon boat racing is held in the pond with shining ripples and melodious Nanqu (south Fujian Opera) accompanied by drumbeats. Several international dragon boat racings have been held here and attracted groups of tourists at home and abroad.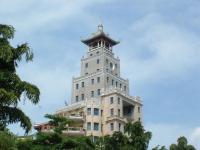 Turtle Garden was constructed in 1950 by Mr. Tan Kah- Kee on the former site of "Turtle Head Palace". In the centre of the garden is the Jimei Liberation Monument with an inscription by Mao Zedong on the front and a tablet record written by Mr. Tan Kah-Kee on the back. The foundation of the monument is surrounded by gray jade carvings and relief sculptures polished with great care, embodying a concentrated reflection of exquisite workmanship and a unique style of south Fujian stone carving art.
Returnees' Hall, Walled by white stones and roofed with green tiles, the Returnees' Hall covering an area of 4,000 square metres is a typical sample of south fujian constructions. As the former residence of Mr. Tan Kah-kee, the building is marked by Mr. Tan's bronze standing statue in front.
Located by the side of Guankouken inner road of No. 324 national highway in Jimei District, the Wanbao Hill Sightseeing Farm covers an area of 500 mu. All year around fruit trees are planted in the garden for picking and tasting by the tourists in any month. The farm is also equipped with a fishing pound, barbecue areas, camping areas, farming areas, refreshment rooms and a restaurant for customers' convenience and to meet their special interests. Further more, a holiday villa within the farm can provide lodging and all kinds of entertainments.
More Attractions in Xiamen
Recommended China Tours Including Jimei District Xiamen