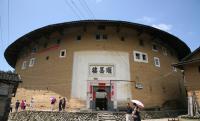 Xiamen is situated on the southeast coast of Fujian Province, at the estuary of Jiulong River. It lies at 118degree 04' 04'' east longitude and 24degree 26' 46'' north latitude. At the back of Xiamen lies the Zhangzhou-Quanzhou Plain and facing Xiamen across the Taiwan Strait are Taiwan Island and the Penghu Islands.
Xiamen City comprises Xiamen Island proper, Gulangyu (Gulang Island) and the coastal part of north Jiulong River. It has a land area of more than 1565.09 square kilometers and a sea area of 300 square kilometers. Because of such favorable conditions, Xiamen becomes an international seaport scenery city.
Except majority of Han Chinese in Xiamen, there are also more than 20 different ethnic groups such as Hui, Manchu, Zhuang, She, Miao and Gaoshan etc. Because of geographic environment and historical background, Xiamen has lots of returned oversea Chinese and their families, and oversea Chinese with Xiamen registered permanent residence from Macao, Hong Kong and Taiwan. The folk customs of ethnic minorities and various local festivals are appealing to tourists. Its local dishes and snacks also add to its charm.