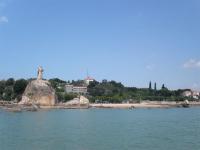 Best Travel Time Xiamen
Xiamen has a subtropical climate and the temperature all the year round is mild with abundant rainwater. In this case, all the year round is good to visit Xiamen except the occasional typhoons during July to September. Spring and autumn are the best time to visit Xiamen, with gentle sunshine, amenity sea breeze, verdant hills and cozy climate. Winter in Xiamen is not hash and a sweater is enough there.
Xiamen Safety Tips
Xiamen offers a wide variety of seafood, don't forget to taste some but not eat too much; take some antidiarrhea drugs for preparations; and it is recommended not to drink beers when eating seafood.
No smoking in public places in Xiamen.
If you plan a Xiamen trip in summer, watch out the weather forecast; with the impact of typhoons, flight would be canceled and some sites would not open to public. Typhoons come occasionally, 4-5 times a year.
Xiamen Shopping Tips
Xiamen has charming landscape as well as wide range of local products, including sugarcane, fruits, sea products and jewelry, antiques and so on; among them, the pies on Gulangyu Island, the vegetarian cakes in Nanputuo Temple, and the dried sea products and tea leaves sold along Xiaxi Road are the most well-known ones.
The five commercial areas in Xiamen is Zhongshan road, Lotus road on Gulangyu Island, Xiahe Road, Egret Allusion Shopping and Entertainment City and SM City Plaza.
Eating in Xiamen
Being fresh, light, crispy and slightly spicy in taste, Xiamen food is the most representative dishes in Fujian Cuisine. Seafood is abundant in Xiamen and there are many local delicacies make from fresh fish, prawns, crabs and more.
Herb meal and vegetable dishes in Nanputuo Temple are worth a try while there are many other reasonable-priced local snacks can't be missed like Tu Sun Dong, Peanut Soup, spring roll and so on.
Where to eat in Xiamen? Check the Xiamen local restaurant pages.
Nightlife / Entertainment in Xiamen
Xiamen is leisure and beautiful seashore city with many beautiful sites for sightseeing at daytime; and at night, even a stroll along the street would be colorful. There are many teahouses for the traditional Chinese night activities, or you can go to the bars or pubs for entertainment.