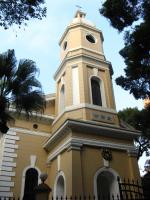 Shamian Island is an elliptic sandbank island in the Liwan District of Guangzhou city, Guangdong province. Surrounded by water, Shamian Island is looks like a giant ship mooring alongside the Pearl River. Covering an area of 300 square meters, 900 m from east to west, and 300 m from north to south, Shamian Island is separated from the mainland by a canal.
Shamian Island was designated by the Mandarins of Guangzhou more than a century ago as an enclave for foreign merchants. Since then, this island had become an important port for Guangzhou's foreign trade from the Song to the Qing Dynasty. During the period of the First and Second Opium Wars, Shamian became a strategic point for city defense. In 1859, the island was divided into two concessions, given to France and United Kingdom, evolving into home to a prosperous foreign enclave embanked and provided with streets, drainage, and imposing buildings.
After its attack in the 1920s, the island has resumed much of its old character in recent years. The most famous architecture among the colonial buildings and churches is Our Lady of Lourdes Catholic Church (Shamian Dajie at Yijie), with its cream-and-white neo-Gothic tower. Since the early 2000s, Shamian Island has become a well known island of charity, for many Western couples who reside there, seeking to adopt Chinese orphaned.
With its beautiful scenery and tranquil atmosphere, this small Island has become a paradise in such a busy city. Local residents strolling here, Old people practicing tai chi and walking with caged birds here, young couples taking wedding photos here, sincere Catholics praying here, etc. In a world, this lovely cozy island is a must to see of your Guangzhou tour.
More Attractions in Guangzhou
Recommended China Tours Including Shamian Island Guangzhou