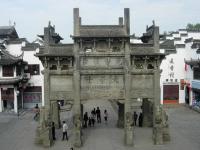 Surrounded by mountains and streams, Shexian County is located at the southern foot of Mt. Huangshan, in the upper reaches of the Xin'an River. The region blossomed in the seventeenth century after local salt merchants started raising elaborate town houses and intricately carved stone archways, since then, Shexian has outgrown other areas in Southeast China in economic and cultural development.
Shexian County is famous as Town of Culture for its strong ancient atmosphere of Hui culture. It is regarded as the birthplace of the unique Hui Culture, which is fully represented by Hui Style Architecture and local products. The stone memorial archways, ancestral halls and ancient residential houses are large in quantity and refined in structure.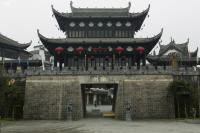 Most of the courtyards, gardens, pagodas and bridges built during Ming and Qing Dynasties are well-preserved. Local products including She Inkslab, Hui stick, Chengxintang Paper, Wang Boll Writing Brush and the "The Four Carvings of Huizhou Style", namely, bamboo cut, woodcut, brick-sculpture and stone carving have won nationwide prestige for their uniqueness. The art of inkstone making has been famous for over 800 years and The She Inkslab is among the best in China. In 2000, Shexian County was opened as a tourism town to show the original appearance of Ming and Qing Dynasties.
In addition, Shexian is renowned as the home of art and culture in the southwestern China. Shexian County has produced many artists such as master painter Huang Binhong, great Chinese philosophers such as Zhu Xi and Cheng Hao, great educator as Tao Xingzhi and men of letters. Moreover, Shexian County also has a nickname of Hometown of Tea for the production of high quality tea in large quantity.
More Attractions in Huangshan
Recommended China Tours Including Shexian County Huangshan