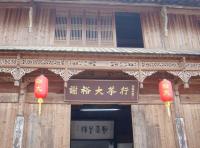 "Beijing is the best Choice if you want to enjoy the Imperial Palace while Qiankou is a must if you want to see the ancient Chinese residence". Mr. Shan shiyuan, a well-known expert on ancient architecture and director of Chinese Architecture study association and deputy-director of the Forbidden City Museum praises Qiankou as above.
Located in the Huizhou District, Qiankou Residence, also named Zixia Mountain Villa, is a wonderful place of China for its culture and history. Qiankou Residence centralizes 10 representative buildings of the Ming dynasty scattered in Huizhou and is known as the "Museum of Dwelling Houses of Ming in Qiankou". It has been the place where Taoqian, an established poet in the East Jin Dynasty once recited his touching verses: "Picking up the Chrysanthemum flowers in Dongli, I pleasantly see the Nanshan Mountains". Once step into the ancient village, you will find the most refined and delicate ancient houses of Ming and Qing Dynasty together with grand mansions and fancy gardens as well, which reveal the latest five hundred years old history and the life style of the local people.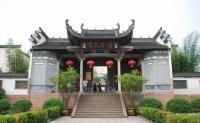 Located at Qiankou Village, Huizhou District, Huangshan in Anhui province, Qiankou Residence Museum was built in May, 1990. Eight years after its founding, Qiankou Residence Museum was granted by the State Department as the National Key Protection Unit. Collections in this museum are dozens of typical and representative local architecture of Ming Dynasty which are impossibly protected in original areas. Main architectures of Qiankou Residence Museum are Sijian Mansion, Caomenting, Leshan Hall, Shanhua Hall, Mansion of Su Xuehen, Mansion of Fang Guantian and Mansion of Wu Jianhua and so on. Because of its historical, artistic and scientific values, Qiankou Residence Museum has gained the fame of "a living monograph of the folk arts of the Ming and Qing Dynasty" and "model of highly harmonious integration of man-made scenery and natural landscape".
The opening time is 8:00---17:30.
More Attractions in Huangshan
Recommended China Tours Including Qiankou Residence Museum Huangshan