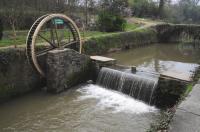 Perched at the foot of Mt. Huangshan, near Shexian County, Tangmo Village is another typical spot to explore the Huizhou dwellings culture. Tangmo Village was constructed originally in the Tang Dynasty and reached its height of prosperity in both the Ming (1368-1644) and Qing (1644-1911) dynasties as the most representative garden village designed with feng shui principles in Huizhou. . There is a fairytale of the founding of the village that about 1,400 years ago, the village's forefather, a man named Wang, sowed three ginkgo seeds on three patches of barren land, and location of the only one to sprout was where Tangmo would begin to bloom.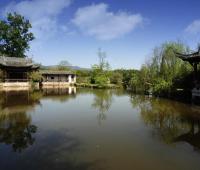 Tangmo Village is a tranquil village which is famous for both its noticing natural landscapes and the historical and cultural glamour. Upon entering the age-old pavilions at its entrance, visitors witness streets paralleling winding rivers, leading to nearly 100 Anhui-style residential houses scattered along both banks, complemented by various shops selling all kinds of necessities.
Tang Gan Yuan Garden in Tangmo is a must-see scenic spot in Tangmo Village. This garden was established by a rich man for his mother, who could not realize her wish to be able to travel to the West Lake in Hangzhou. Therefore, some scenic spots of the garden in some how are similar to those of the West Lake. Further to north is a pavilion called Jing Ting (Mirrior Pavilion), where illustrious stone inscriptions of eighteen famous Chinese calligraphists' factual writings are proudly displayed. Charming Water Street which is full of Jiangnan features runs along the Tangmo Village, it is the best place for strolling.
More Attractions in Huangshan
Recommended China Tours Including Tangmo Village Huangshan