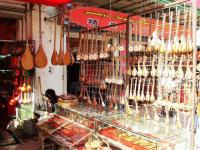 Kashgar is famous for the winding narrow streets of its historic old town, which used to be at the crossroads of the northern and southern branches of the Silk Road, near the western edge of the Taklamakan Desert. Aged wooden doors and cobblestone paths of Kashgar Old Town have witnessed the passage of innumerable donkey carts and traders from Asia and Europe thousands of years before. Now the historic district Kashgar Old Town covers about 4.25 square kilometers, taking up 12 percent of the city's area, and is inhabited by more than 30 percent of its population, all of whom are Muslims.
Located in the heart of Kashgar city, the Old town demonstrates a fascinating architectural style of mud built houses with supporting wooden beams and beautifully carved wooden ceilings. Inside the Old Town, numerous small lanes crisscross to every corner, hundreds-year-old two or three stories simple architecture scatter around. Influenced both by Eastern and Western cultures in the Silk Road period, the architecture of the Kashgar Old Town displays the charm of Central and Western Asia as well as elements of ancient Roman. Some of the houses in the Old town are more than five hundred years old, making the visitors feel as if take a walk back through time. However, for the sake of safety, do pay attention to some dilapidated architecture which seems to collapse at any time.
Residents in Kashgar Old Town are friendly, but do show respect to the locals who are living here as these are their homes not only a tourist attraction. It is better to stay with your tour guide incase of getting lost in the multitude of small streets.
More Attractions in Kashgar
Recommended China Tours Including Kashgar Old Town Kashgar