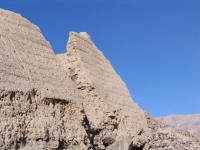 Located in the north of Tashkurgan County, Kashgar City, Xinjiang Province, Stone City is ruins of an ancient significant castle at the junction of the middle route and southern route of the ancient Silk Road.
Stone City was famous for its strategic location. Besides its important location on Silk Road, it is also the place where roads from Kashgar, Shache, Yingjisha and Yecheng to the Pamirs meet. Because of this, the Stone City was made the capital of Puli Country in Western Regions during the Han Dynasty (206 BC-220), one of the 36 kingdoms in the Western Region under the jurisdiction of the Han Dynasty. The Tang government set administration office here to rein the region after it unified the area. The Yuan government repaired its old buildings and enlarged the Stone City for military purpose. However, the Stone City was deserted in the Qing Dynasty when the government built a new city in the south of it.
The Stone City was built on a precipitous hillock which is 20 meters high. The remains of the Stone City today are the outside walls while the inside had all collapsed. The broken city walls built with huge rocks are 6 meters high and about 1-3 meters wide at the top, stretching around 1300 meters along the city. The stone city is unique with bizarre-shaped stones scattering here and there. In addition to the ruins, you can also enjoy the view around: the surrounding snow-crowned mountains, grasslands, rivers and even the flavor of national traits of the Tajik people.
More Attractions in Kashgar
Recommended China Tours Including Stone City Kashgar