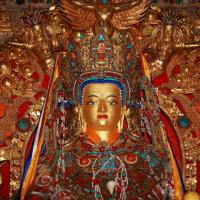 With a nickname of Minor Jokhang Temple, Remoche Temple is a Buddhist monastery considered as the most important temple in Lhasa after the Jokhang Temple. Covering a total area of 4,000 square meters, Remoche Temple locates in the northwest of the Tibetan capital of Lhasa, east of the Potala and north of the Jokhang.
The history of Rachoche Temple is as long as the Jokhang Temple as they were founded at the same time (around 7th century). Ramoche Temple was originally built to house the much revered Jowo Rinpoche statue, which was originally brought to Tibet by Princess Wen Cheng. Unlike the Jokhang, the original building complex of Ramoche Temple has a strong Tang architecture influence, for it was first built by Han Chinese architects during the Tang Dynasty. It is said that, Han Princess Wencheng, who took charge of this project, ordered the temple be erected facing east to show her homesickness. By the mid-15th century Ramoche Temple had became the Assembly Hall of the Gyuto Tratsang, or Upper Tantric College of Lhasa (Mi Zong) and was home to 500 monks. Now Ramoche Temple ranking as one of the key cultural relic protection sites of the Tibet Autonomous Region as well as a popular attraction in Lhasa.
Ramoche Temple was gutted and partially destroyed in the 1960s during the Mongol invasions and the bronze statue disappeared. In 1983 the lower part of it was said to have been found in a Lhasa rubbish tip, and the upper half in Beijing. Eventually they had been joined and now the statue is housed in the Ramoche Temple. Went through many reconstructions, the present temple is the result of the large restoration of 1986, only the Buddha palace on the first floor is left in its original state. As an interesting example of the combination of Han and Tibetan architectural styles, the golden peak of the temple with the Han-style upturned eave is the most representative one. Now the main architecture of Ramoche Temple is a three-stories building.
More Attractions in Lhasa
Recommended China Tours Including Ramoche Temple Lhasa