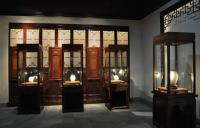 Nanjing Museum is situated inside the Zhongshan Gate of the Nanjing city. With an area of 70,000 square meters, Nanjing Museum is one of the largest museums in China. Originally established in 1933, it was proposed by Mr. Cai Yuanpeia, a modern democratic revolutionary and educationist. It is opened to the public in 1978, and it is responsible for the excavation and preservation of the ancient relics in the Nanjing area.
The complex of buildings were designed by Liang Sicheng in the 1930s, which represents an amalgamation of Chinese and Western architectural styles with the great hall copying the style of a Liao-dynasty palace. In the back there is a western-style flat-roof structure. Added in the 1990s to the west of the main building is an art hall which references Chinese architecture of the first half of the 20th century.
The Basic Hall with its two storeys, is mainly for the display of historical items, and is a building in the style of an ancient palace of Liao. The Art Exhibition Hall, having three storeys, lies to the west of the Basic Hall, setting up 11 special exhibition halls such as Modern Art Hall, Ancient Chinese Jade Hall, Ancient Chinese Painting Hall, Ancient Chinese Lacquer Hall, Jiangnan Silk Product Hall, Treasure Hall, Qing Garden, Sculpture, Ancient Chinese Earthen Ware Hall, Bronze Ware Hall and Folk Art Hall.
There are various kinds of 420,000 pieces of collection totally, among which are more than 2,000 pieces of the national first-class culture relic and the national most favorite treasures. These include the only complete set of "jade suits sewed with silver thread" in China, which are world renowned. The relics from archaeological excavation, ethnic minority historical relic, foreign historical relic, palace ware, documents in Qing dynasty and historical relic of Japanese invader in surrender rite, all of them are national unique rare products, which the scientific value is relatively high. The collection of books of China and foreign countries in the museum has reached to nearly 300,000 volumes, among them there are national rare valuable books and hall edition books. No matter on the quantity or on quality, they come out top around the country.
With opening to the outside world in recent year, Nanjing Museum carries on international cultural exchanges with many countries all over five world continents and made the greatest efforts and positive contribution in national culture propagation.
More Attractions in Nanjing
Recommended China Tours Including Nanjing Museum Nanjing