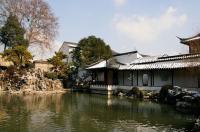 Zhanyuan Garden is located on No. 128 Zhan Yuan Road, Nanjing City. Covering a total area of 15,621 square meters, Zhanyuan Garden is the only well preserved Ming Dynasty architectural complex among the five most famous gardens of Southern China. It is the oldest among all the gardens in Nanjing, with a history of more than 600 years.
The first garden on this site was built during the early Ming Dynasty by General Xu Da. Emperor Qianlong of the Qing Dynasty once came here and gave it the name of Zhanyuan. It was destroyed during the uprising of Tai Ping Tian Guo, it became the residence of the Taiping Rebellion leaders. With frequent wars, it lay deserted for many years until its restoration by the government, with the southern "mountain" added in 1960.
With the adoption of a little bit of the technique in modern gardening, Zhanyuan Garden maintains the layout and style of the Ming and Qing Dynasties. The garden is divided into two parts. The east part is the museum where the cultural relics of Taiping Tianguo are displayed. The west part is typical garden scenery consisting of exquisite pavilions, clear water pools, winding pathways and a variety of rockeries. Jingmiao Tang is the main structure of the garden. Encircled by water and rockeries, the hall resembles a water pavilion. To its east, there is another strange Taihu stone called "Xuelang Shi". Standing on the south side of the hall, you can appreciate the South Rockery covered by colorful flowers and green trees. The layout of rockeries and lakes keeping the garden-style characteristic of the Ming and Qing Dynasties, absorbing the best modern gardening art throughout the country.
More Attractions in Nanjing
Recommended China Tours Including Zhanyuan Garden Nanjing