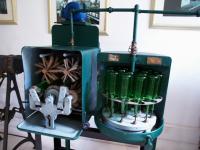 Qingdao Beer Museum, also called Tsingtao Brewery Museum, is the unique beer museum build by Tsingtao Beer Brewery. Built in 1903, Qingdao Beer Museum is China's first beer museum. Visitors can learn about Tsingtao Brewery's more than100-year-old, beer-brewing process, taste the fresh beer, enjoy the passion Tsingtao beer bring to them.
Qingdao Beer Museum takes the history of beer and the making process of it as the theme to tell visitors more about beer in Qingdao. The old German building and equipment are an important part of company culture. Covering a total area of 6,000 square meters, Qingdao Beer Museum is divided into the following sections: the 100 years of history and culture exhibition, the production line, a multipurpose area, and three sightseeing areas.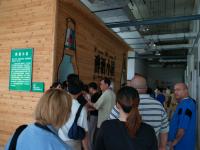 Following the path of history illustrated through detailed images and texts, you can discover the mysterious origins of beer making, Tsingtao Beer's long history, Tsingtao Beer's innumerable honors, the Tsingtao International Beer Festival, and the pantheon of national and international celebrities who have visited Tsingtao Beer. The museum exhibits the cultural relics, pictures and data which were collected from Europe and Tsingtao beer's objects in the different periods. The historical exhibits read more like sales pitches, but most people visit the Brewery for the free beer samples, which includes the well-known Tsingtao pilsner as well as lesser-known Tsingtao Stout.
In Multipurpose Entertainment Area, you can taste various fresh Tsingtao beers and buy some souvenirs in the first floor-- the tasting beer and the shopping center. There are amusement establishments on the second floor. The modern design thought and the high technical measure, the organic combination of knowledge and amusement all can make you place yourself into the holiday joyance. At every representative stage of the production line, there is a film introducing the evolution of Tsingtao Beer's production process. To recreate a historical appearance, sculptures of staff in the workplace vividly represent the beer making process.
More Attractions in Qingdao
Recommended China Tours Including Qingdao Beer Museum Qingdao