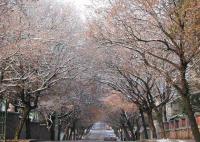 Best travel time Qingdao
The climate of Qingdao is temperate monsoon with 4 distinct seasons, moderate rainfall and abundant sunshine. Summer is short and not so hot while winter is long and cold. The best time to travel Qingdao is from end of March to early November. It is recommended to avoid the peak season in summer.
Qingdao Shopping Tips
Recommended products in Qingdao: seashell carving, seafood products, seashells, Laoshan mineral water, Laoshan Cola, Tsingtao beer and Korean products in kinds of stores
Eating in Qingdao
There is abundant seafood in coastal city Qingdao and all of them are divided into two categories: Great Seafood and Little Seafood. Sea cucumbers, abalones, shark's fin, prawns, crabs, conch, and some big fish are regarded as Great type while squid, shrimps, octopus, oysters, razor clams, clams, periwinkles, yellow croakers as Little ones. Fresh seafood is served in most hotel and restaurants. And don't forget to taste the Lu cuisine – representative of Shangdong province.
Nightlife / Entertainment in Qingdao
The bar life in Qingdao is vivid and active. The Qingdao entertainment district is located in the downtown area of the east part of Stone Old Man Tourism holiday area.
Festivals
Qingdao International Beer Festival in August/September, held annually since 1991
China International Afforestation Fair, since 2003
APEC SMEs Technology Conference and Fair
China Qingdao Fishing Competition
Qingdao Bar-Culture Festival
China International Exposition of electronic home appliances
China Qingdao Ocean Festival
China International Maritime Exhibition
Qingdao International Fashion Week
China International Fishery Fair
China Qingdao International Hot Air Balloon Festival
Qingdao International Beach Festival
Recommended Qingdao Tours