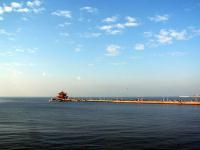 Perched on the southern seaboard of Shandong Peninsula, Qingdao is well-known to the west by its postal map spelling Tsingtao. Around 400 km east of Jinan - the provincial capital of Shangdong, it borders Yantai to the northeast, Weifang to the west and Rizhao to the southwest. It is known as "Pearl on the Yellow River" and "China's Switzerland". The most famous beer of China - Tsingtao Beer is produced here.
Qingdao consists of 7 districts and 5 cities at county level with an area of 10654 square kilometers. It has a total population of 7.4 million with 2.65 m in the urban area. Qingdao boasts four parts of different styles: the west part, being the similar to the modern western city; the east part, sampling the modern international city; the center, embodying the traditions and custom; the suburb, displaying historical sites. Now Qingdao has become the most important industrial base of the province and China.
The climate here is characterized by clear seasons, moderate rainfall and abundant sunshine. It is short in summer and long in winter. The average temperature in summer is 23 ℃, the august being the hottest with 25 ℃. With its cool sea breezes, fresh air and delicious seafood; it is where more people come to build sand castles and dream of retirement.
Qingdao also hosts many fairs and festivals throughout the year and one of the most famous is the annual Qingdao International Beer Festival. It is held during the last 2 weeks of August and attracts lots of visitors. Summers see the city packed with visitors, making spring and fall better times to visit, if you hope to avoid the crowds. Qingdao is also the host city of sail-boating of the 2008 Summer Olympics.
Recommended Qingdao Tours