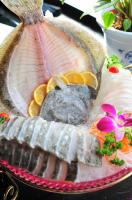 Located by Yellow Sea (Huang Hai) abundant of seafood, Qingdao is famous for seafood. The local cuisine emphasizes on freshness and tenderness of food. Compared with other cuisines in North China, the flavor here is lighter and mild. The most well-known restaurants are Qingdao Restaurant (Qingdao Fandian) and Chunhelou Restaurant. There are also plenty of international restaurants for your options like Itialian, German, Janpanese and Korean styles.
Qingdao is also a world of beer. The most famous beer in China - Tsingtao Beer is produced in this city. Initiated in 1991, every year in August a 16-day-long celebration - Qingdao International Beer Festival is held in the city, which has become a big draw for the visitors from home and abroad.
There are several gourmet streets at downtown, such as, Yunxiao Road, Minjiang Road and Pichaiyuan Seafood Street.
Recommended Qingdao Tours