Black Dragon Pool Park (Heilongtan Park) is located north of Lijiang Old Town, at the foot of the Elephant Hill. There is a spring under a chestnut tree at the foot of Elephant Mountain, which flows day and night, eventually formed a big pond with a total area of 40,000 square meters. Black Dragon Pool Park also called Jade Spring Park because its endless bubbling spring waters which is as clear as jade in the pool.
Originally built in 1737, the Park is green with grass and shaded by swaying willow trees, including some fit-in buildings like Five - Phoenix Tower, Moon - Embracing Pavilion and Suocui Bridge. Black Dragon Pool Park provides a heaven for bird and water-life, above the surface of the pool there is always white vapor flowing in winter, which makes visitors feel like in a fairyland.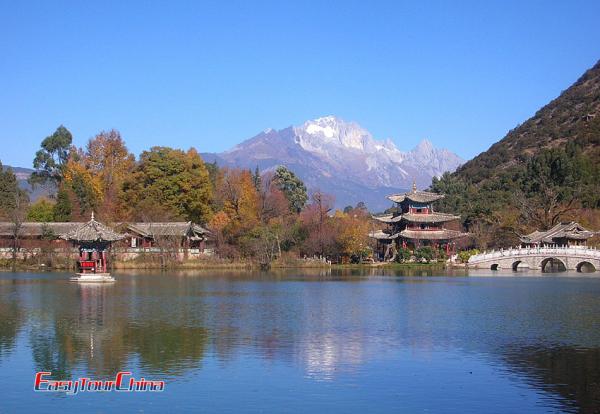 Black Dragon Pool Park Facts
-Chinese name: 黑龙潭公园
-Location: No.1 Minzhu Road, Old City District, Lijiang
-Time needed: 1 hour
-Entrance fee: CNY30 / perseon
-Opening Hours: 08:30-17:30
Best Time to Visit Black Dragon Pool Park
Generally speaking, Lijiang has unique scenery in each month, and you will have different feelings when you visit Lijiang at different time. However, Lijiang has high altitude and the weather will be cold in winter, so you need to prepare some warm clothes when you come to Lijiang during winter. Most people think the best to visit Lijiang Old Town is in autumn every year, since the weather is cool and it has low rainfall during this time, Black Dragon Park looks really charming under the beautiful sunshine, and you may see the Jade Dragon Snow Mountain with its white snow from the park.
What to See at Black Dragon Pool
In addition to the breath-taking scenery, Black Dragon Pool Park is also famous for many distinctive and ravishing sites. Once entering the park, a charming white marble bridge lying across the emerald water will come into sight, it is the Suocui Bridge. As the centre-piece of the park, the Longshen Temple is made up of a gate-house with two wings and a great hall. Other sites like the Deyue Pavilion, the Hanyue Stage, and ancient monuments also quite worth visiting
Black Dragon Pool is a good place to take pictures of Jade Dragon Snow Mountain. The images that composed of Wukong Bridge, Deyue Tower, Snow Mountain and its reflection in Black Dragon Pool have became the classic scenery postcard of Lijiang. If you want to take pictures of Jade Dragon Snow Mountain during your Lijiang tour, it is suggested to go in the morning or evening, because the light will be soft at that time. In addition, it is low rainfall the water at the pool is so clear during autumn and winter, which are the beat season to shoot Jade Dragon Snow Mountian.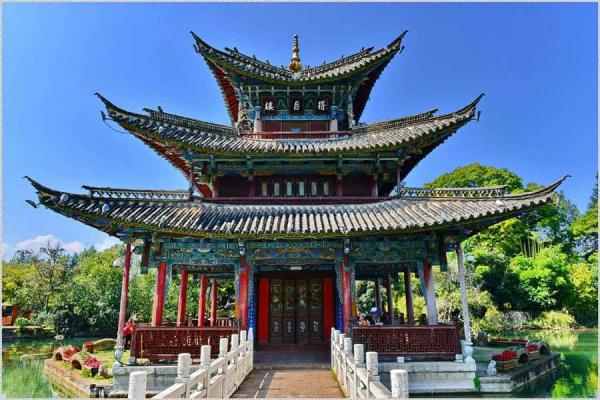 Major Attractions
Dragon God Temple
Built in 1737, the Dragon God Temple has history of more than 260 years, and it is the oldest building complex in Black Dragon Pool Park. As the main building of the park, the Dragon God Temple includes the stage and Deyue tower, which are distributed on the main axis line. The Dragon God Temple faces west, it is a traditional courtyard style architecture with gate tower, two chambers and main hall. It is famous for the "Dragon God" that granted by the emperors of Jiaqing and Guangxu. In ancient times, the Dragon God Temple was the place to worship the dragon god for raining and also a place to hold Dragon King Temple Fair.
Five Phoenix Tower
The Five Phoenix Tower is located in the north of Black Dragon Pool Park. It was built in 1601 and has 20 cornices in the tower. The shape of the tower is look like five flying phoenix, hence the name "Five Phoenix Tower". The Five Phoenix Tower integrates the architectural characteristics of Han, Tibetan and Naxi nationalities, and is the representative of ancient Naxi architecture. When Xu Xiake visited Lijiang in 1639, he stayed at Fiver Phoenix Tower for eight days to edit and revise the manuscript of Chieftain Mu Zeng, which has became a good story in the history of Naxi literature.
Dongba Museum
Dongba Museum also called Dongba Culture Museum, is located inside the Black Dragon Pool Park. Dongba Musuem was designed to display the splendid Dongba culture of the Naxi (Nakhi) people. The museum now houses more than 12,000 cultural relics, including 43 national first-class cultural relics and more than 2,500 Dongba cultural relics. It is the museum with the largest collection of Dongba cultural relics in the world. Dongba Culture Museum is really worth to be listed in your Lijiang tour schedule if you are interested in the Dongba culture, such as Dongba characters and Dongba religion.
How to Get to Black Dragon Pool Park
1. By bus: take bus No. 3, 4, 6, 8, 9, 13, 20 or 28 to Heilongtan (Black Dragon pool)
2. By walk: it only takes 15 minutes walk from Lijiang Old town.
3. By taxi: take taxi from Lijiang Old Town to Black Dragon Pool cost around CNY10-15.
More Attractions in Lijiang
Recommended China Tours Including Black Dragon Pool Park (Jade Spring Park) Lijiang