Macau Tower, also known as Macau Tower Convention and Entertainment Centre, is located on the southern part of the Macau peninsula. For views of the Pearl River Delta by day or the city lights by night, nothing surpasses the Macau Tower.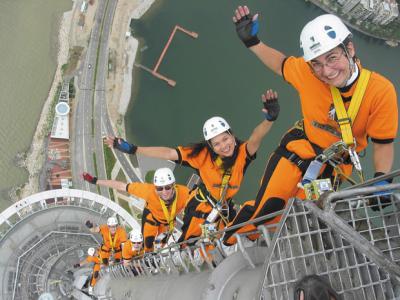 The Tower was designed by New Zealand engineering firm Beca Group and Gordon Moller of Craig Craig Moller architects for Sociedade de Turismo e Diversões de Macau. Construction work of the tower started in 1998, and the tower was officially opened on December 19, 2001, at the 2nd year anniversary of Macau's return. On December 17, 2006, the father of contemporary bungee jumping, A J Hackett, and popular artist Edison Chen broke two Guinness World Records at the Macau Tower.
The tower measures 338 m in height from ground level to the highest point. It was the eighth high tower in Asia and the tenth in the world by the year of its completion. The Macau Tower is one of the members of the World Federation of Great Towers. Besides being used for observation and entertainment, the tower is also used for telecommunications and broadcasting. Having ascended to the Tower's upper limits in high-speed glass-fronted lifts, an unforgettable vista awaits you, while a delicious buffet caters for all tastes at the 360°Cafe.
Macau Tower offers the best view of Macau. In recent years, it has been used for a variety of adventurous activities. Specially designed cords, amazing views of Macau and South China, and the fact that you will be coming within about thirty meters off the ground before rebounding back up are just a few highlights of experiencing this product first hand. The Observation Lounge is on Level 58. It is a fascinating place to see the sunset in the morning or see the spectacular night-view of Macau. Looking down, you can see the East and west Mangyang Hill, Casino Lisboa and even the outlying island of Hong Kong in sunny days. At 233 meters, the Macau Tower's tethered "skyjump" and Bungee jump by AJ Hackett from the tower's outer rim is the second highest commercial skyjump in the world. Two different jump styles AS WELL as our signature Skywalk X product which allows clients from all walks of life to test their fear of heights on the outer rim of the tower, still at the 233 meter level, with no handrails.
More Attractions in Macau
Recommended China Tours Including Macau Tower Macau