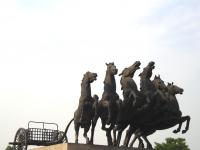 Emperor Carriage Museum is located northeast of the Emperor City of the Easten Zhou Relic on the newly constructed Wangcheng Square in downtown district, Luoyang city. The whole museum occupies more than 1,700 square meters, mainly displaying the giant horse and chariot sacrificial pit of Eastern Zhou Dynasty on its original site. The museum is a place to learn about the history and visit an archaeological site of Eastern Zhou Dynasty, which existed from about 770 BC to 256 BC. The highlights of the museum are sacrificial pits where sculptures and skeletons are presented.
Emperor Carriage Museum is divided into two sections. The first section mainly exhibits the archaeological findings in the capital of Eastern Zhou Dynasty and some cultural relics of Eastern Zhou. This section is made up of four parts. Each part respectively consists of a map which showing the location of the five ancient capitals, introduction to the Royal City of the Eastern Zhou Dynasty, discoveries of the king's grave area and instructs about the discovery and excavation of the site, some precious artifacts of the Eastern Zhou.
The second section of the museum exhibits the two chariot-horse pits of the 17 ones discovered during the excavation of the capital square. These pits were unearthed in 2002 and 2003 and the largest pit is about 42 meters long by 7.3 meters long. Among all the chariots discovered in Luoyang by far, the northern Emperor's Six-horse Chariot is the largest. This well-conserved chariot is 42.6m long, 7.4m wide and 2.2~2.7m deep. Wheels of the chariots and the skeletal remains of horses can be seen in this section.
More Attractions in Luoyang
Recommended China Tours Including Emperor Carriage Museum Luoyang