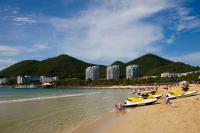 Dadonghai Resort Area is one of the most popular tropical seaside holiday areas in Hainan Province, located 3 kilometers southeast of downtown Sanya, between Mt. Tuziwei and Mt. Luhuitou. Dadonghai beach is an awesome, funky, bohemian 2.3 kilometers crescent moon shaped beach hangout lined with one of the world's very best 30m wide exotic tropical wood and garden boardwalks. Characteristic cafes, bars and seafood restaurants with 15rmb beers and fresh fruit juices scatter along the boardwalks. Clear blue sea, warm sunshine, white sand and green trees creating a beautiful location in the Torrid Zone.
Enjoying spring-like weather all year round, Dadonghai has become a world-renowned hibernation resort for outdoor winter swimming with a water temperature 18°C-22°C in winter. It is famous as an ideal place for diving, beach sports, bathing and sunbathing, as it has everything to support a seaside tourist location, including a large shopping square on the shore, amusement companies and a famous dive company that can provide scuba diving, ship diving, seabed strolling, speed boat, motorboat, luxury yacht, sail boat, ocean fishing, beach sports and underwater photography. Dadonghai Pearl Square, Tropical Rain Forest Square, Seashore Lovers Road and Seafood Barbecue Square, are all able to offer leisure for tourists. Standing on the top of the small mountain inside the Seashore Park visitors will have a panoramic view of the beach. Various resort hotels at all level will make the holiday time as comfortable as you want to be.
Buses and taxis from Sanya downtown area and Sanya Phoenix International Airport go Dadonghai Resort Area. Sightseeing bus (10 minutes once) special for tour line also go (from 7:15 to 19:00) to Dadonghai.
More Attractions in Sanya
Recommended China Tours Including Dadonghai Resort Area Sanya