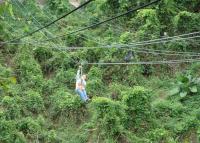 Located in the Ganza Ridge Natural Reserve on the border of Sanya City and Baoting County, approximately 28 Kilometers from Sanya, Betel Nut Park(Binglang Gu in Chinese)is short for the Areca Valley of Hainan Ganza Ridge Primitive Culture, covering an area of 246,000 square meters. Binglang Gu means areca valley, and it was so named because it is formed by a valley, several kilometers long, covered with thousands of areca palms and lush jungle on both slopes.
The Betel Nut Park comprises three major features: the primitive Li Minority village, the ecological Miao Minority village, and tropical jungle, ranking as one of the most important tourist attractions on Hainan and is among its top ten scenic spots.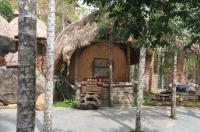 Li and Miao Minority Village is located 49 km from Baoting Country, and the village is filled with betel nut trees, a native plant to Hainan Island. Betel Palm has significant bearing to Li and Miao Minority people and they describe it as a beauty and slim girl. Chewing betel nut fruits has become the habit of some natives as it can refresh their mind. Visitors here can join in the interesting Bamboo Dance and enter in natives' old style hamlets. An amazing and incredible "Fire and Knife" performance by Miao people will be presented as well.
On the immense grounds of Bing Lang Gu is a 1.2-kilometre series of stairs and walkways following the waterfalls flowing through the dense greenery and dramatic landscape. Native rainforest in the Betel Nut Park gives visitors a sense of physical and spiritual isolation from the worries of the world. Natural hot springs is another leisure resort as it can be enjoyed in private spas on the decks of some five-star property set villas.
More Attractions in Sanya
Recommended China Tours Including Betel Nut Park Sanya