Located at Nantian Resort District in Haitangwan Town of Sanya city, Nantian Hot Spring Resort boasts the largest open-air hot spring base in China; the resort is a 5-star complex incorporating services of hot spring holidays, recreations, beautiful constructions and commercial events. It promotes brand-new concept of healthy hot spring recreation triggered by the exclusive "Three Elements" hot spring, silica acid fluorine and radon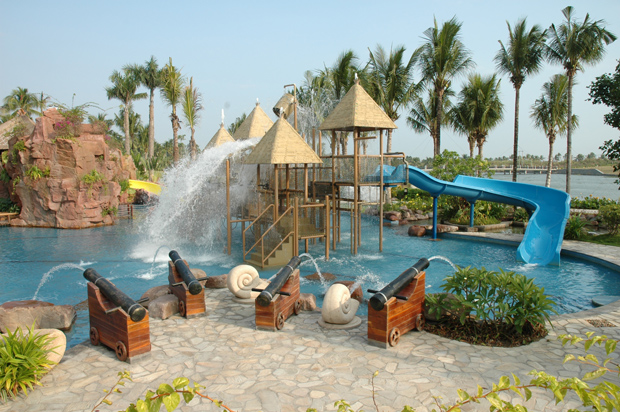 .
Nantian Hot Spring Resort is all-around with 128 deluxe rooms and various kind of villas, 5 ballrooms accommodating 100-200 packs respectively, as well as Chinese restaurants, Western cafes, Brazilian BBQ, pubs, tea houses, spa setups and sorts of fitness facilities. Here in Nantian Hot Spring Resort visitors will enjoy a most pristine environment, birds' twittering, fresh air and swinging coco palms give a strong idyllic atmosphere. There are free lockers in the Nantian Hot Spring Reception where visitors can get towels, slippers &shower before enjoying hot springs, and they need to bring their own swimming wears.
It is better to book the ticket at least 24 hours in advance. The price is RMB150/person for entrance only, RMB198/person with shared transportation and RMB298/person with private transportation. It costs extra for all services like Massage, spa treatment and please prepare extra RMB200/person as deposit. If visitors need any services, they will charge into their locker key and they pay upon check out.
More Attractions in Sanya
Recommended China Tours Including Nantian Hot Spring Resort Sanya