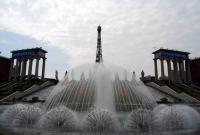 Shenzhen Window of the World is a fantastic replica park the located in the western part of Shenzhen city. Exceptionally assembled in the 480,000 square meter theme park are the marvelous sights of the world, natural landscapes, over 130 scenic spots, even folklore and social fantastic world where tourists can find much pleasure. Here you can see vivid replicas of the world's wonders, historical heritages and famous scenic sites, such as the 108 meters tall Eiffel Tower, the Pyramids and the Taj Mahal. The entire masterpiece here was built at ratios of 1:1, 1:5 or 1:15.
The Park is divided into eight scenic areas; they are the World Square, the Area of Asia, the Area of Europe, the Area of Oceania, the Area of Africa, the Area of America, the Sculpture Park and International Street. Enjoy the picturesque scenery as you take a gondola along the canals of Venice while the exciting Africa full of life and vigor is waiting for you. Traveling through Pyramids and the Sphinx make you feel that your are right in mysterious Egypt. Looking from a distance, Sydney Opera House looks like a luminous pearl on the vast expanse of blue sea water.
All the famous sights of America from East Coast to West Coast are also exhibited, including the awe-inspiring Niagara Falls and the Grand Canyon.
Various characteristic festivals is another attraction of this park. The most influential one is the International Beer Festival held in summer holiday. The Cherry Festival and the Indian Cultural Week World, Dance and Singing Gala held during the Spring Festival are also popular ones, especially the pop Music Festival, which is the favorite of young people.
More Attractions in Shenzhen
Recommended China Tours Including Window of the World Shenzhen