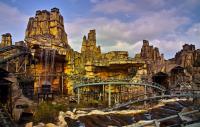 Located in Nanshan District, Shenzhen city, Happy Valley is another modern theme park in China after Splendid China, Chinese Folk Culture Villages and Windows of the World which combines modern fallow concept with high-tech entertainment way and creates new style travel brand firstly. It covers an area of 350,000 square meters and was constructed under an investment of one billion Yuan. Happy Valley builds a natural, refreshing, lovely, surprising, ardent and exciting atmosphere for the tourists inside which pays much attention to tourists' participation. Activities in Happy Valley cover the fields of sea, land and air.
Happy Valley is made up of nine theme sections, including Spanish Plaza, Cartoon Castle, Adventure Mountain, Happy Times, Gold Mine Town, Shangri-la Forest, Hurricane Bay, Sunshine Coast and Maya Water Park. The park encompasses nearly 100 exciting items for both adults and children, many of which were introduced from America, Holland, Germany, etc. such as China's first 'Discoverer' which swings in a high arc.
Happy Valley owns many first in the innovation of the items, such as the first up-to-the-minute the family ride 'UFO' in the world, China's first tower of adventure - space shuttle, the first Four-dimensional Cinema in Asia that combines seeing, hearing and feeling, the first "Shooting the rapids" which has the largest fall in the world, the first suspended roller coaster "Xueshan Feilong" in China, the first "screaming tower" Space Shuttle in China and the highest one in Asia, and Maya Water Park, the only park in Asia that by rewarded the international prize of World Water Park Association.
More Attractions in Shenzhen
Recommended China Tours Including Happy Valley Shenzhen