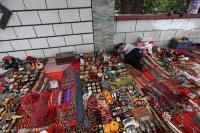 Lay in the southern piedmont of the median Himalayas, about 776 km away from the capital of Tibet Lhasa, Zhangmu Town is famous as a port which borders Nepal to the south. Sino-Nepal Friendship Bridge is only 10 km away and Kathmandu, the capital of Nepal, is just 100 km's drive from here.
Since the drudgery of the Sino-Nepal Road, Zhangmu Town has become a most welcome sight both for various skin-colored tourists and traders alike. It is always crowded with tourists and businessmen. The booming border trade in Zhangmu Town attracts merchants from inland China, Tibet and Nepal running business here. Nepalese merchants export rice, flour, pepper, vegetables, and perfumes while Chinese merchants sell wool, tea, salt and Tibetan medicine. Nepalese restaurants serving Nepalese dishes, instant noodles and beer produced in Nepal is not strange in the small town.
At the altitude of about 2300 m, Zhangmu is mild and humid. Its subtropical climate is conducive for the flourishing of flowers, trees and other green vegetations. Embraced by wondrous mountains, flexural rivers, lush pines and flourishing flowers almost all the year round, natural scenery in Zhangmu Town is very charming. All the houses here are scattered randomly without any intentional design, which gives visitors a rambling impression of the town.
There are no shuttle buses between Zhangmu Town and Lhasa or other parts of Tibet, thus the best way to get there is to rent a car or to hitchhike. It rains often in Zhangmu Town, so remember to take a raincoat or an umbrella with you.
More Attractions in Shigatse
Recommended China Tours Including Zhangmu Town Shigatse