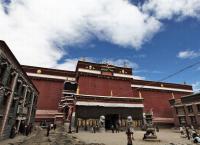 As the second largest city of Tibet, Shigatse is most famous as the seat of the Panchen Lama, who has been regarded by Tibetans (except those in Lhasa) to be on equal footing with the Dalai Lama. 250 southwest of Lhasa, the city has a population of 90,000 (2002) with an area of 3700 square meters. Shigatse has an elevation of 3850 meters above sea level, bordering Nepal, Bhutan and India (Sikkim).
Strategically located at the alluvial plain at the confluence of YalongTsangpo and Nyangchu Rivers, Shigatse was once the political, religious and cultural center of 'Rear Tibet'. As time went on, the town lags far behind Lhasa in terms of economy and population. 98% of the population is Tibetan in the area. Due to its relative inaccessibility, traditional way of life of the local people still remained very well.
The famous Tashilhunpo Monastery was founded here in 1447 by Gendun Drup, the First Dalai Lama. Today, it has become a big draw for the tourists coming from home and abroad. Besides, Yamdrok Lake (one of the holy lakes), Mt. Everest (Peak Qumolongma), Sakya Monastery, Palkhor Monastery and Kumbum Stupa are other popular attractions in this region.
It is expected that the Qinghai-Tibet railway will be extended to Shigatse by 2010.
Recommended Shigatse Tours